When choosing a company for your senior care services, you're welcoming someone into your home and trusting them with an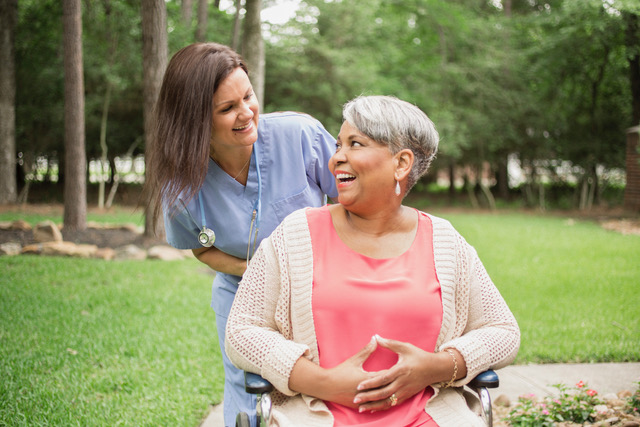 extremely important task. Our caregivers are aware of the important role they play in the lives of senior citizens and their families, and are always compassionate, professional, and equipped to handle any problems that may arise. We understand how sensitive and difficult the caregiving process can be, and train our caregivers to be prepared for any situation.
Personal Qualities
Our caregivers are caring, kind, dependable, and personable individuals who are passionate about providing non-medical, in-home care to the elderly. For our caregivers, providing quality senior care services to senior citizens in their community isn't just a job—it's a lifestyle that excites and motivates them every day. Hiring a caregiver is like accepting a new member into your family, and we make sure that every member of our team is fully engaged in, and enthusiastic about, the caregiving process.
Training
We take our hiring process seriously, and no caregivers join our team until they've been thoroughly screened and are fully credentialed. Caregivers must have all national and licensing requirements before joining the Senior Helpers team. We also give our caregivers the opportunity to participate in the Senior Helpers University program to obtain further education and receive credits toward their Senior Helpers Certification.
We take pride in our Senior Gems® program, which focuses on how to create specialized treatment plans for patients with Alzheimer's and dementia. We encourage our caregivers to keep educating themselves so they can continue to create an exceptional customer experience.
Preparedness
Our caregivers recognize that no two clients are the same and are highly trained to offer a diverse selection of services.
Alzheimer's & Dementia Care: For our important Alzheimer's and dementia patients, our caregivers are trained to create customized home care plans specific to their needs. We carefully monitor daily activity and focus on creating a safe, positive environment.
Companion Care: Our Companion Care services are lauded for their flexibility and ability to adapt to your specific needs. Whether it's just a brief hour-long visit, or being available 24/7, our caregivers are available for a range of services.
Concierge Care: We pride ourselves on our in-home senior care services, but that doesn't just apply to your home. We offer assistance to patients in senior living communities, including the move-in process, wait list support, and post-medical care.
To see first-hand how our highly-trained staff can provide exceptional senior care services for your loved one, reach out to us here.