What is Virtual Care Support?
Senior Helpers of South Minneapolis & Surrounding Area provides Virtual Care Support services to our clients and families using Sensi technology. Sensi is an automated system that is able to analyze sensory data from care environments and give care providers actionable insight. Sensi supports 24-hour support with alerts for all anomolies as part of your service package. It enables us to stay on top of things, to know that everything's ok, and to be notified if it isn't. Sensi will provide your loved one an added layer of support, and you with peace of mind.
A New Standard of Care
You may not be able to be physically present 24/7, but that doesn't mean you can't enjoy 24/7 assurance. We are now combining our high quality in-person care hours with 24/7 virtual care support in the home environment to prolong seniors' ability to age in the comfort of their own homes.
This enables us to provide you the perfect combination of quality caregiver services on-premise and virtual care support in the home environment 24/7 – ensuring the highest level of care for senior wellbeing, safety and independence as well as prolong their ability to age in the comfort of their own homes.
Our new 24/7 Virtual Care Agent - Sensi
Sensi is our new virtual care agent technology that provides us with around the clock data-based insights and recommendations. This industry leading technology is based on audio analytics developed specifically for care environments, which can automatically analyze both mental and physical events and trends. This provides [Name of Agency] with in-depth insights that help to significantly improve the overall wellbeing of our clients, and ensure that families have peace of mind regarding their loved ones.
How Our 24/7 Virtual Care Agent Helps
Sensi's data-based insights and care recommendations enable us to:

Sensi's trend analysis helps us obtain a comprehensive understanding of each care environment. By helping to provide a more holistic view, we can proactively facilitate each of our client's particular needs, and improve their overall wellbeing both mentally and physically.
Early detection of cognitive and physical decline
Care optimization insights aiding in scheduling and assessing care needs
Tailored care planning
Risk assessment and prevention
How Sensi Works
Sensi is a plug and play device agnostic system - no complex integration or installation.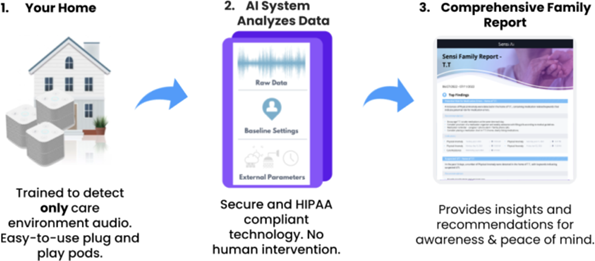 Dignity and Privacy
Unlike cameras, Sensi is a fully automatic, trigger-based audio analytics platform, meaning that it only sends insights upon detecting care related events. Sensi doesn't require any human intervention, so it is not dependent on manual activation, nor on human analytics to obtain insight.
Audio-enabled (NO CAMERAS)
Only triggered to send alerts upon detecting care related events
Sensi employs the highest level of security and data privacy practices that are HIPAA and ISO 27001 compliant
Trust and Transparency
We provide you with a Care Report based on Sensi's data and insights from within the care environment every month, along with any actions we've taken and recommendations we have for any changes in care if appropriate. This helps you stay on alert to changes in your loved one's mental and physical state to facilitate easier communication.
Peace of Mind
Know that no matter how busy you are in your daily life, you are always on top of your loved one's well being.