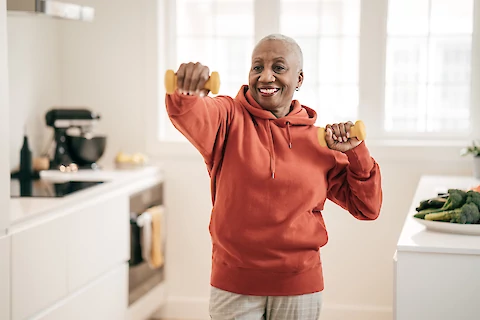 Tips to Enjoy the Benefits of Exercise for Seniors in Annapolis/Severna Park
Exercise benefits people of every age and in every stage of life. However, exercise has special benefits for seniors. An active lifestyle can help a senior maintain their longevity well into their later years. It doesn't have to be intense -- simply taking a walk or joining a group fitness class at your local recreation or fitness center will provide benefits to a senior's long-term health. Seniors who wish to age in place and maintain their independence for as long as possible will find exercise particularly useful to maintaining that independence they desire in Severna Park.
Clearing up misconceptions about exercise for seniors can help them feel more confident incorporating movement into their daily lives. Even a moderate amount of exercise can help seniors stay healthy into their later years. Here are benefits of exercise seniors may not be aware of, and how much they can truly benefit them as they age in place.
Even Light Activity Helps
A sedentary lifestyle is not healthy for a person at any age, but especially not for seniors who may face increasing health challenges. This doesn't mean that you have to run a marathon a day to keep healthy. Light activity is a great start for those who currently live a more sedentary lifestyle.
Begin by simply getting up and moving around, even in your own home. Even 5-10 minute periods of an easy activity like going for a walk can be highly beneficial. Once you get started, it will soon get easier to move for longer and at a higher level of intensity. Remember: Any movement is better than sitting on the couch all day!
Up the Activity Level
Once you're comfortable with easy activities, you can "up the activity level" to something more intense. The CDC (USA) and NHS (UK) recommend that seniors get an average of at least 75 minutes (1 hour 15 minutes) of intense physical activity or 150 minutes (2 hours 30 minutes) of moderately intense activity per week to remain in optimal health.
What is "vigorous" or "moderate" physical activity? Anything that you enjoy doing can be considered vigorous or moderate physical activity as long as it gets your heart rate up. You may enjoy going to the gym or prefer power walking, jogging, bike riding, or aerobic activities. No matter what you like to do, there is an activity you can partake in to help keep you healthy!
Join a Fitness Group/Club/Class
There are many fitness groups, clubs, and classes that are aimed at seniors. For instance, the Silver Sneakers Program helps seniors hold each other accountable for walking a certain amount of miles. The program exists in most areas throughout the US and has chapters in many local communities.
Joining a fitness club, group, or class can help give seniors a social opportunity while encouraging movement and exercise. Accountability can go a long way in helping ensure that you stick to your fitness and movement goals in the long-term!
What Are the Long-Term Benefits of Exercise for Seniors?
In the long term, there are many different reasons seniors should exercise regularly. Seniors who exercise regularly will reap benefits including, but not limited to:
Decreased likelihood of falls or breaking bones

Develop stronger bones

Reduced risk of death from heart-related conditions

Lowered blood pressure

Improved stamina & strength

Reduced symptoms of anxiety, fear, depressions, and other emotional disorders

Help maintain healthy bones, joints, and muscles

Help control swelling and pain from chronic conditions
Considering that exercise for seniors provides all of these benefits and more while they age in place, anything you can do to get moving is a plus for your physical, emotional, and mental health. Get up, get out there, and get moving today to enjoy health benefits to help enrich your life and keep you living to the fullest in Severna Park!