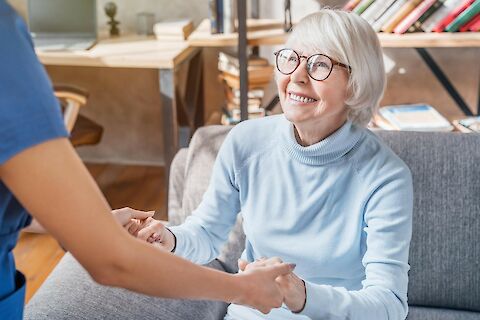 Life is an extraordinary journey. It's one that we all traverse, moving through each stage with as much grace and positivity as possible. As people get older, it is important that every day is cherished and lived with joy. For many seniors, being in their own home goes a long way toward being happy and content with the stage of life they are in. In order for many seniors to age in place, live-in home care is necessary. There are steps you and your family can take to help ensure the process of aging in place goes as smoothly as possible. Senior Helpers is dedicated to helping seniors stay at home and live their life with purpose and joy, while still receiving around-the-clock care.
Planning Ahead is Key
One of the most important things you and your family can do to ensure the transition to consistent senior care goes well is to plan ahead. This includes not only the financial aspect of things, but also considering health issues such as diabetes, the floor plan of the house and any renovations necessary, what you or your senior is capable of currently, and what help is available in addition to the professional senior care being considered. The more that you can iron out and plan for ahead of time the better off you will be. Planning ahead gives you an opportunity to be prepared for both the current situation and things that may come up down the road. It allows you to relax and enjoy the day knowing you have things laid out and taken care of as much as possible.
Considering Convenience and Comfort
Another thing to consider when making the transition to having live-in home care is convenience. Aging in place offers a level of convenience and comfort for you and your family that a senior living facility may not provide. As people age, the convenience factor can sometimes shift. Therefore, it's important to take a good look at how to make things convenient and comfortable now and in the future. Will the house need renovations? Who will be making meals? How close are your family and friends? Will you or your senior need senior companionship and is that person close enough to be content and relaxed when they are over? All of this and more will be open for you to consider as you contemplate aging in place. Again, the more you can plan for and take into consideration, the easier the transition to live-in care will be.
Assessing Possible Services Needed
Lastly, it's important to consider the possible services you or your senior will need for live-in home care to be successful. It's good to take an honest look at the situation regarding health, finances, and emotional wellbeing of your senior. Once you know where you stand, it's easier to take into consideration the services you may need. Different options exist for different diagnoses and different levels of care are available, from partial to 24-hour care. Take a look at your situation and the services offered to help make each day positive, joyful, and peaceful.
Life is a gift and enjoying every moment is priceless. Aging in place can offer seniors an opportunity to stay in their own home with comfort, convenience, and care. There are a multitude of live-in home care services available to help seniors stay at home. Seniors Helpers is dedicated to ensuring that everyone is given a level of care and compassion that helps to make each day as full and positive as possible. For more information contact us today.