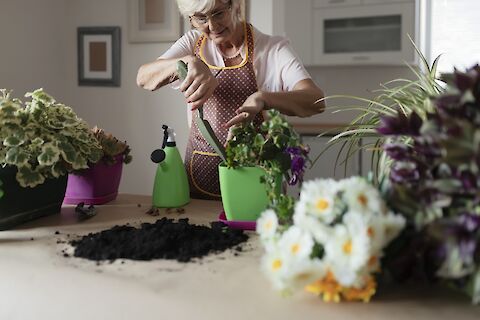 Five Fun Activities To Do With Seniors During Quarantine
Quarantine can be hard for seniors, with added stress and limited opportunities to go outside to enjoy the fresh air. But there are lots of activities that home caregivers and loved ones can do with seniors indoors to keep them active, engaged, and stress-free. Here is a list of five activities seniors will love.
Virtual Tours
From museums to palaces, national parks to aquariums, virtual tours can help people explore the world right from home. This can be a great way to bring out curiosity and the love of learning and traveling in seniors who are stuck at home. Walk in the steps of French kings at the Palace of Versailles or Roman gladiators at the Colosseum. You can even explore the International Space Station together. Through these virtual tours, you and your loved one will learn more about the world and develop a love for different cultures.
Scrapbooking
Relive old memories through scrapbooking. This is a great way not only to get creative and work on fine-motor skills, but to relieve stress by focusing on the happiest times in a senior's past. There are lots of benefits to reminiscing; it can help seniors come to terms with aging and appreciating their own achievements. It's also a great excuse to dig out those old photo albums and learn more about your loved one's life story.
Start a Container Garden
Growing something can give seniors a sense of purpose and something to look forward to each day. If there isn't a lot of space for a proper planted garden, a container garden works just as well. Seniors can learn how to grow herbs and vegetables that they can later eat, or beautiful flowers that will fill their home with color and fragrance. Container gardens don't require much work- with any containers or pots that you have lying around at home, a little potting soil, and some seeds, you and your loved one will be set up for the perfect container garden.
Video Call Friends and Family
Staying in touch with loved ones is incredibly important and comes with a host of mental and physical health benefits. It can also be a great way to alleviate boredom and stress. Help your senior navigate Zoom or FaceTime to catch up with family and friends on a regular basis. These calls can take place over dinner or while watching a movie, and can help your senior feel connected even while being socially distant or isolated at home.
Workout at Home
Physical activity has a positive impact on health and cognitive function for older adults, and just because seniors may be stuck indoors doesn't mean they can't get in a fair amount of aerobic exercise. Something as simple as going on walks outside can make a difference in a person's mental state and physical health. There are also lots of low-impact workouts in a variety of formats, from yoga to dance, available on YouTube. Finding the right workout style can lead to a lifelong passion for staying active.
Conclusion
For more information or resources on senior care in Severna Park, Bowie, Crofton, and the Annapolis area, contact us.