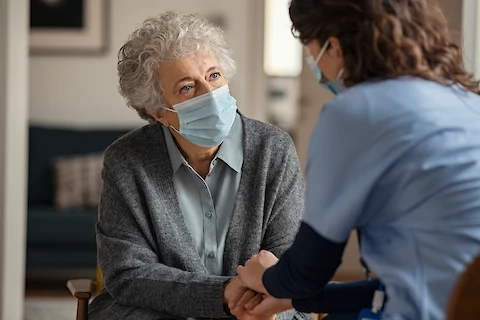 6 Key Reasons to Hire a Home Caregiver for an Aging Loved One
Life changed abruptly for millions of people in a matter of months. Children were left to worry if their parents were safe, being responsible, and getting adequate healthcare. Some family caregivers were unable to get to their senior loved ones because of being exposed to COVID-19. However, to reduce a significant amount of stress, the best route many have found is to hire a home caregiver for their senior loved one.
During times like these it is vital to the health of your senior loved one to hire a home caregiver. A home caregiver can do the things for your loved one that you are not able to do because they are considered an essential worker. Here are 6 key reasons to hire a home caregiver for an aging loved one.
Taking Medication
Although home caregivers are not allowed to give seniors their medication, they can check to make sure they are taking it on time. The caregiver can also call in prescriptions and run an errand to pick it up, if allowed in the seniors care plan.
Making/Getting to Appointments
A caregiver can also make sure the senior has scheduled their appointments for the month. If they do not have transportation, they can arrange it for the seniors. An aide can also help the senior put their medication in a pill dispenser, so that it is easier for them to remember to take. They can also help monitor the aging adult to see if they have any side effects when taking new medications.
Provide Emotional Support
One of the greatest gifts of having a caregiver is the companionship. During these unprecedented times everyone needs someone around they can talk to. Having a companion around makes a person feel as if they are not alone. A caregiver can become an invaluable friend that provides emotional support to the senior.
Light Housekeeping
Seniors who need extra help around the home can get help with changing, bed linens, dusting, washing dishes, vacuuming, and much more. Caregivers will also prepare three meals for the senior if needed, and help them get to bed before they leave for the day.
Assist with Personal Hygiene
Personal care tasks might be a bit complicated after a surgery, sickness, or just because of mobility issues. There also may be seniors who are experiencing a mental decline and need help with maintaining their appearance. A home caregiver can help with hair combing, bathing, and with getting a senior dressed and undressed.
Filling Out Paperwork
Seniors with severe arthritis know how difficult it can be to write and handle important paperwork. The caregiver can assist with writing out a grocery list, paying bills, sending off a letter, and many other tasks.
To find out more about the benefits of hiring a home caregiver for your senior loved one, or to hire a home aide in Annapolis, Severna Park, Bowie, and the surrounding areas, contact us today!