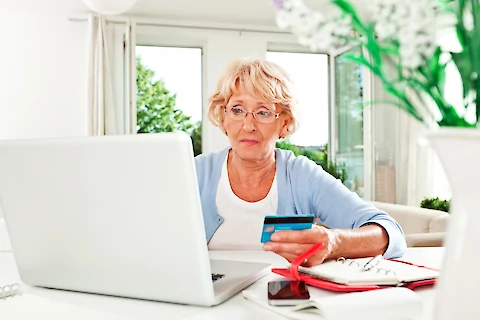 5 Ways Seniors Can Recognize Identity Theft
If you're like many seniors, you enjoy shopping online, belonging to organizations you care about, and paying your bills on time. The latter is a breeze with just a few strokes on the keyboard.
Although the Internet can make your life less complicated, there are things you want to be on the lookout for when giving out your information online. Here are five warning signs to help you recognize identity theft.
Denial for Credit
It's feasible that one may be denied credit because of a low credit score, high credit to payment ratios, and too many recent credit inquiries.
However, if your credit has always been in good standing and you haven't recently applied for credit, this may be a sign that someone is using your identity for nefarious purposes.
Getting identity theft resolved can be a long, brutal process. This is why it's important to request a credit report at least once a year. You can ask for a report from any one of the three major credit reporting bureaus: Equifax, Experian, and TransUnion.
Unexplained Dip in Credit Score
Most people know their credit scores like they know their birthdates. If you have a good credit score, you may be justifiably proud of the fact. However, if you start noticing your score dropping, it's important to get to the bottom of it right away.
There are several reasons a credit score may drop, of course. However, if you haven't recently applied for credit, you may be the victim of identity theft.
A New Account on Credit Report
You should periodically review your credit report. If you notice a new account in your name that you didn't open, someone has most likely stolen your ID. Thieves usually open credit accounts using stolen identities, maxing out the available credit before the victim notices.
Calls From Debt Collectors
If you've never had a debt collector call your house, and you start getting incessant calls — you may have a serious problem on your hands. Don't disregard the calls, thinking that the caller must have the wrong person.
Ask them a few questions to get details about the bill. Once you have the details and determine that it isn't your bill, call the company right away and ask to speak with someone in the billing department.
It could very well be that someone has used your name to purchase items, and you're now left holding the bag.
Electronic Tax Return Rejected
Tax time often comes with a corresponding rise in identity theft. If someone has already filed a tax return using your social security number, the tax return will be rejected.
If you check for minor errors and the return is still being rejected, you'll need to verify the actual problem with the IRS. Someone may have used your social security number to file a return and receive a refund in your name.
Also, if you receive a tax return transcript without requesting one, that usually means someone has requested one using your name and information. Beware!
To get more senior care tips and find out how to hire professional caregivers in the Severna Park, Bowie, or Crofton areas, contact us today!