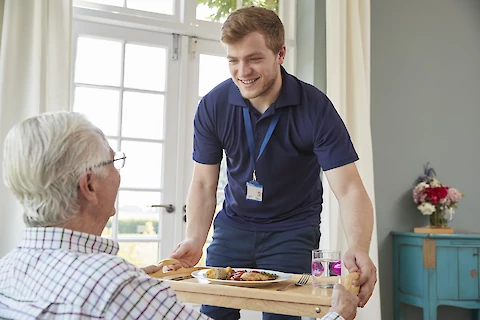 Fast Facts About Senior Diets for Home Caregivers
Nutrition plays an important part in a person's health, regardless of their age. As people get older, certain medical diagnoses make them more susceptible to malnutrition. One important component of consistent senior care is supplying your loved one with adequate nutrition to address both their physical capabilities and their dietary needs. Below are some fast facts that all home caregivers should know about geriatric nutrition.
Essential Vitamins and Minerals
There are certain vitamins and minerals that every person needs in order to stay healthy. As your loved one's body ages, however, they run the risk of developing deficiencies in key nutrients. For home caregivers tasked with providing a well-balanced, nutrient-rich diet, it's essential to focus on the following vitamins and minerals:
● Calcium
● Vitamin B12
● Vitamin D
● Dietary fiber
● Potassium
Vitamin D and calcium is essential for strong bones. Without it, seniors are at risk of developing osteoporosis. Vitamin B12 is necessary to convert food into energy and assists with concentration and memory. Potassium helps the body stay properly hydrated, while dietary fiber helps keep it regular.
Foods That Seniors Should Avoid
Getting your aging loved one to accept an adequate intake can be a struggle. While it might seem like any intake is good intake, there are certain foods home caregivers should avoid serving. Among them are:
● Sugar
● Sodium
● Caffeine
Many seniors are at an increased risk of developing diabetes due to differing attitudes toward foods over their lifetime, or secondary to other medical issues. If you suspect your loved one has a diabetic or pre-diabetic condition, you should seek to limit their sugar intake as much as possible.
Sodium is another thing you should try to cut out of their diet. Certain medical conditions and medications might make your loved one more susceptible to high blood pressure, heart disease, and strokes. Too much sodium can contribute to the likelihood of developing some kind of cardiac disease.
Caffeine can be a danger because it is a diuretic. Although it's a liquid, it can ultimately contribute to dehydration if taken in larger quantities.
Dietary modifications
Certain diagnoses, such as Alzheimer's, dementia, or Parkinson's disease, may affect your loved one's ability to eat foods at normal consistency. To combat malnutrition, a dietitian, speech therapist, or doctor might put your loved one on a modified diet. The two main dietary modifications are:
● Mechanical soft
● Puréed
A mechanical soft diet requires home caregivers to grind up meats and other hard-to-chew foods into a softer consistency. A pureed diet requires that all foods be finely processed into a smooth, pudding-like consistency that can easily be swallowed.
On top of altered solids, medical professionals may also order modifications to your loved one's fluids, including thickened drinks that minimize your loved one's risk of choking through a powdered additive.
Care Through Nutrition
A healthy, balanced diet is essential if you intend to help your loved one age in place. An awareness of good nutrition practices, in conjunction with necessary dietary modifications, ensures that your loved one remains healthy and happy. Senior Helpers of South Shore can assist by providing live-in home care and senior companionship services designed to give your loved one the most consistent senior care possible. We're proud to service Brockton, Quincy, Braintree, Bridgewater, and the surrounding areas. Please contact us for more information.