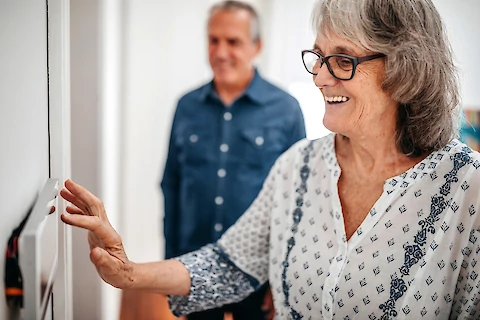 Staying in their own home is vital to many people. They are surrounded by the things they love and have the independence they want. But not every home is as safe as it could be. Making sure seniors aging in place are secure is fundamental to their well-being. Here are some things that can be done to make sure everything is as safe as possible.
1. Install a Peep Hole
If the doors do not already have one, consider installing a peephole. This allows you to see who is at the door before you open it. It's a simple, budget-friendly step that makes a big difference. Today's peephole cameras are easy-to-install, compact, and often offer HD video. Basic measures like this can go along way towards safety from unwelcome visitors.
2. Lock It Up Tight
When no one is going to be home, make sure all windows and doors are locked tight. This is something everyone should do, but senior homes can be the target of those looking for an easy place to enter illegally. An at-home caregiver can help older folks remember actions like these.
3. Get a Security System
Home security systems are another excellent option for keeping seniors safe in their homes. There are many kinds to choose from, including very basics systems and more advanced ones. A security system can be installed that gives remote visual access to a family member, as well. If anything suspicious seems to be going on, the police and family can be alerted right away.
4. Consider Motion-Activated Lights
Motion-activated lights are a great way to prevent break-ins. Movement triggers the light to turn on. When installed over important locations, such as doors and windows, intruders are easily seen and deterred. They are also convenient if you're coming home after dark. They light the path, and there's no need to worry about tripping in the dark.
5. Plan for Travel
If plans for travel are in the works, put the senior's mail on hold and pause their newspaper delivery. Never post on social media that the house will be empty. If packages are due to be delivered, arrange to have them picked up or delivered to a friend's house. If possible, have family members come and go occasionally to give the look of someone being at home. Leave a few lights on, and consider timers that can turn them on and off just like someone was at home. Many security systems come with this feature.
6. Keep in Touch
Checking in with friends and family regularly is essential to senior safety. This lets them know everything is fine. This contact is not just good for safety and security, but it's also important for the mental well-being of seniors.
Let Us Help
Senior Helpers of South Shore Boston provides peace of mind for the families of seniors aging in place. Daily contact can be maintained and the well-being of older family members is no longer a worry. We provide daily care, around the clock care, and overnight care. We take care of your family just like they were our own. Contact us today to learn how we can you.