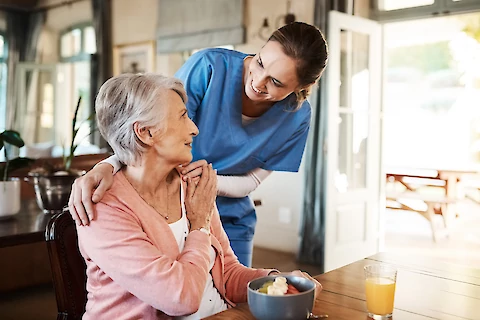 5 Things Caregivers Should Observe in Eldercare
As we age, engaging in mundane activities can become relatively difficult. This is the case with seniors who often require help with laundry, bathing, shopping, and feeding. Besides help with everyday tasks, caregivers can offer seniors in South Shore and the surrounding areas companionship and emotional support. To achieve this, there are several things caregivers should observe in eldercare.
Below, we share five of the most important.
1. Safety Supervision
Seniors are vulnerable to falls due to factors such as neurological decline, poor eyesight, and loss of bone density. Statistically, falls account for 25% of hospital admissions and 40% of nursing home admissions.
Due to the susceptibility of seniors to accidents, caregivers should observe their movements. There are a few things caregivers should observe to avoid accidents, including:
Eliminating tripping hazards

Making sure that seniors use stair handrails

Keeping rooms well lit

Ensuring the floor isn't slippery

Monitoring medications
2. Exercises
Exercises are essential for seniors as they promote physical and mental wellbeing. They also improve mobility and let seniors live more independent lives. There are four types of exercises that seniors can engage in:
Endurance training (which enhances blood circulation)

Stretching (for joint health)

Strength training (which reduces age-related loss of muscle)

Balance exercises (which improves balance and minimizes the risk of falls)
Through a regular exercise routine, seniors can remain healthy and strong.
3. After Surgery Care
Recovery after surgery can be more complicated for seniors due to decreased immune system function, ailments, and previous injuries. Caregivers should observe their seniors carefully and provide round-the-clock care to keep them safe after surgery. Also, they must monitor the mental and physical wellbeing of their senior charges at all times.
Equally important is to coordinate with doctors and family members to develop a comprehensive care plan. Essentially, caretakers should understand that seniors require care and attention to recover fully.
4. Medication Reminders
In some cases, seniors (especially those above the age of 65) may be required to take multiple medical prescriptions. However, due to factors related to age, such as memory impairment, they may forget to take medicines on time.
Caregivers must work with doctors to prevent complications and help seniors stick to a dosing schedule. They should also know the medication routine so that they can provide the right medications at the right time.
5. Assistance With Ambulation
Ambulation involves movement, such as moving from the bed to a chair or moving around in a wheelchair. Seniors often require help with movement, and caregivers must know how to safely transport them to prevent falls and other accidents.
They should also encourage seniors to be independent, as it can help strengthen their physical and mental wellbeing.
Caregiving goes beyond feeding seniors and helping them with basic tasks. As can be seen, there are several things caregivers should observe to ensure seniors remain healthy and live a fulfilling life.
Senior Helpers is dedicated to helping seniors in South Shore, Marshfield, Bridgewater, and the surrounding areas. We offer quality senior care to each of our clients. For more information about our care services and questions about what caregivers should observe in eldercare, contact us today. We are happy to address any concerns you may have.