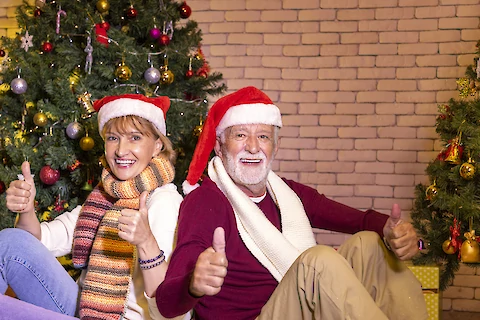 The holiday season is here, and for many, it is a time of joy and celebration. However, those with limited mobility might feel constrained by the busy to-do lists and busy schedules of the season. If that is something you are experiencing, know that you have options. This helpful guide from Senior Helpers will offer some tips for senior adults in and around the Lexington, Georgetown, Nicholasville, and Shelbyville areas on how to balance your busy to-do list without getting overwhelmed.
3 Helpful Holiday Shortcuts
There's a lot to do during the holiday season, from preparing special meals to prepping your home for guests. It is easy to get overwhelmed by everything that needs to be done. If you are struggling with limited mobility or don't have the energy to complete this long list of tasks, it's a good idea to look for ways to streamline everything. Here are three helpful tips for getting through the holidays without stress.
Utilize a Meal Delivery Service
Preparing a special meal or dish can be fun, but it can be exhausting if you can't spend long hours on your feet. It's a good idea to look into meal delivery services or catering companies in case you decide to order some pre-made meals. With so many options for catering and meal delivery, you are bound to find a delicious option that tastes just like something from your kitchen!
Hire House Cleaners
According to Residence Style, everyone should consider hiring a house cleaner at some point during the year. Not only can a professional house cleaning service get into areas that might be difficult for a senior adult, but they can give your home the kind of tender loving care that seems impossible during the busy holiday season. You can request a full house cleaning or special services for specific rooms, such as a kitchen deep-cleaning.
Don't be Afraid to Ask for Help
Finally, don't hesitate to ask your family and friends for help if you are overwhelmed by your to-do list. Odds are, your family will be happy to help if you ask. You could ask a relative to pick up some groceries from the store to save time, or even pay a visit to your home to help you cook the holiday meal. These occasions could lead to even sweeter holiday memories - and save you stress at the same time!
Senior Helpers is a Premier In-Home Care Provider
The holidays are exciting, memorable, and full of fun - and if you manage to avoid the feeling of being overwhelmed, you will be well on your way to the best holiday season yet. If you want help managing the duties of your household, reach out to Senior Helpers. As the premier provider of in-home senior care to residents in and around the Lexington, Georgetown, Nicholasville, and Shelbyville areas, Senior Helpers offers tailored home care services that our clients love. Contact us today to learn more about our services!