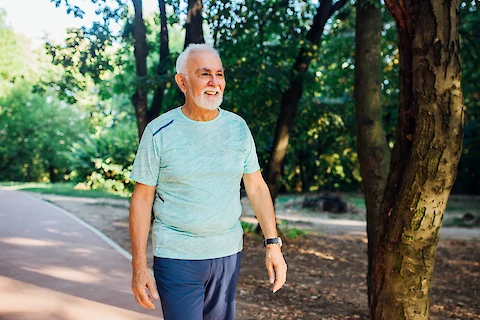 Don't Let Cold Mornings or Evenings Interrupt Your Daily Walk!: 3 Tips for Seniors in Lexington
The seasons are turning, and while many are excited about the upcoming holiday season, some senior adults are making preparations for updates in their routines. For those seniors who enjoy brisk daily walks, cold weather can bring about some distinct risks. Still, there's no reason to give up your daily walks. Senior Helpers Lexington, the premier provider of in-home senior care in the Lexington, Georgetown, Nicholasville, and Shelbyville areas, has the information you need to maintain a daily walking routine in safety during the cold fall and winter months.
3 Ways for Seniors to Enjoy their Daily Walk in Safety
Exercise is one of the best ways for seniors to stay healthy. According to the Centers for Disease Control and Prevention, regular physical activity can prevent or delay many of the health problems that are associated with aging. Many seniors choose to get their daily exercise in through daily walks in the morning or evening. However, when colder temperatures loom, seniors might get concerned about the possibility of frost, which could lead to dangerous slips and falls. There's no need to give up daily walks, however - when caregivers for senior adults utilize these tips, persons over the age of 65 can safely enjoy their beloved treks.
Bring an extra jacket
In the fall and winter months, temperatures can plummet without warning. This is especially true in the evening hours when it can suddenly get a lot colder when the sun goes down. Bringing an extra jacket or coverup is a good way to ward off the chilly temperatures and keep any walk comfortable and safe.
Walk with a caregiver
It's always a good idea to walk with a friend or caregiver, especially in the early morning or evening hours. Walking with a caregiver isn't only a safer option than walking alone, but it can provide an excellent opportunity for companionship and great conversation.
Wear shoes with a good grip
Frost isn't always visible, especially on sidewalks and paved surfaces. Slipping on frost or icy patches, however, can be very dangerous, leading to fractures and even breaking bones. Wearing shoes with a good grip can help to prevent sudden falls. Another safeguard against falling is to use a cane or walking stick - and always be sure to examine hard surfaces carefully when there is a threat or warning of frost.
Senior Helpers Lexington Offers Premier In-Home Senior Care
With the right safety precautions, seniors can continue to enjoy their daily walks all throughout the fall and winter months! Seniors in and around the Lexington, Georgetown, Nicholasville, and Shelbyville areas can count on the expert in-home care services from Senior Helpers Lexington year-round. We have been caring for seniors in the Bluegrass area for over 10 years, with tailored services that cater to the unique needs of every client. If you want to learn more about the services that we offer, contact us, Senior Helpers Lexington, today!