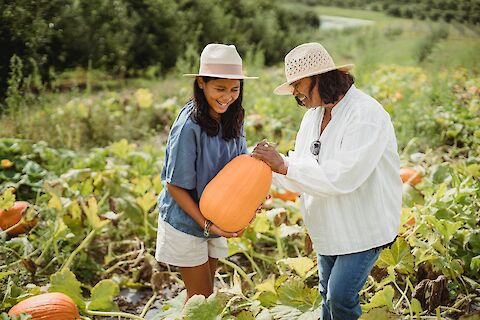 Tips for Finding the Best Local Fall Activities in Overland Park
Fall is full of lots of fun activities to do with family and friends and Overland Park has a lot of activities to offer! But finding out where and when those events are taking place can take a lot of time and effort. That is why Senior Helpers Overland Park is going to provide you with some of the best fall activities to attend this fall found on the Overland Park local website!
1. Hop aboard a hayride to Pumpkin Hollow
Enjoy old fashioned games, pumpkin patches and the spiderweb maze all October long, every day from 10 a.m. to 3 p.m. at the Deanna Rose Children's Farmstead Pumpkin Hollow event! A perfect fall activity that everyone in the family can enjoy and at the end of the day, you can choose the perfect pumpkin to take home and carve!
2. Experience the Farmstead After Dark
After the Pumpkin Hollow event, stick around the Deanna Rose Children's Farmstead for the spooky festivities on October 22nd-23rd and October 29th-30th from 5:30 – 9:00 p.m. at Night of the Living Farm! The fun includes scary and non-scary hayrides, live entertainment, a superhero obstacle course, a princess dance pavilion, a marshmallow roast, delicious food, and so many more activities for everyone to enjoy!ollH
3. Indulge in the Overland Park Farmer's Market
Every Wednesday and Saturday from 7:30 a.m. to 1 p.m. join the community as they gather for the weekly Farmer's Market! Enjoy the fall weather as you shop for fresh produce, local foods, and unique specialty items from a plethora of vendors! Help support your community by eating locally and enjoy all the in-season produce autumn has to offer!
4. Get active and enjoy the beautiful trails Overland Park has to offer.
Fall has the perfect weather to enjoy the outdoors and embark on a hike with family or friends! Enjoy the Indian Creek and Tomahawk Creek bike/hike trails which provide you with miles of open and green landscapes!
In Overland Park, there is a multitude of activities and fun to enjoy with your family and friends this fall! At Senior Helpers, we have a multitude of home care services to support aging-in-place which include companion care, Parkinson's care, wellness watch, respite care, and personal care. Senior Helpers of Overland Park is committed to providing your loved one with the best in-home care while maintaining their independence. For more information, visit our website and contact us today for our services.