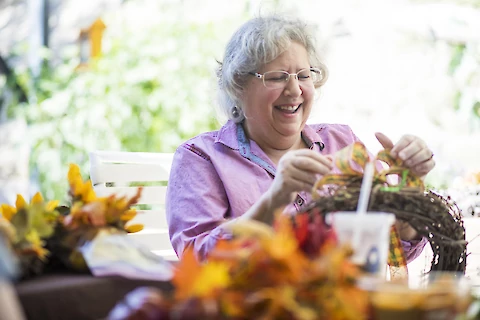 The Top Seven Crafts to Enjoy With Older Adults
Crafts can be a perfect, quiet activity to do with seniors. However, keep in mind their fingers may not be as nimble as yours, so you need to use patience. For that reason, some seniors will jump into any craft activity. However, some worry that they won't be able to work fast enough. The key to crafting with seniors is either to be prepared to help them or to have enough time to finish it.
Crafts should be relatively simple to understand and not have small pieces that can be easily dropped. Crafts can be a great way to improve seniors' moods as well as help them keep their fingers flexible. This guide will discuss the perfect crafts to do with the seniors that you love.
7 Crafts to Enjoy with Your Senior Loved Ones
1. Sock Snowmen
Directions for sock snowmen are here. The nice thing about sock snowmen is that you can decorate them any way you'd like. You can cut large pieces to decorate with. And when you finish them, you can turn them into a winter decoration as well as an ornament to put on a Christmas tree.
2. Handmade Greeting Cards
There are so many ways you can craft homemade greeting cards, and they're functional as well. These cards save money for seniors on a fixed budget. They also serve as a lovely keepsake allowing seniors to keep in touch with their loved ones.
3. Felt and Wire Angels
Felt and wire angels make lovely presents as well as decorations and can serve as ornaments on Christmas trees. The angels are also perfect for older seniors with poor eyesight. The wire is easy to use as well as large enough to see.
4. String Art
String art is versatile and can make something very simple to something colorful and highly decorative. There are many string art templates on the internet. It can also be a fun activity for seniors who used to like to knit but no longer have the dexterity to keep up with the stitches.
5. Easy Tree Ornaments
These clever crafts don't have to be used as tree ornaments. But their creative tree shape makes them perfect for this purpose. Buttons can be bought in bulk for this craft. You can also use some other type of material to decorate the ornaments. Either way, you end up with a fun craft that's easy to do.
6. Wrapping Paper Crafts
Who doesn't like giving gifts around the holiday season? With this easy craft, older adults can create their own personalized wrapping paper to make their gift extra special. The other great thing about this craft is that you can use recycled materials. 
7. Halloween Tea Lights
These tea lights are fun to make and can be made with any decorative theme in mind. But with Halloween coming up, it's a shame not to let seniors decorate for everyone's favorite spooky season.
Conclusion
It can be challenging for seniors to pass the time. And boredom is often the number one complaint we hear from seniors. Crafting not only gives seniors something fun to do, but it also provides them with a sense of accomplishment and gives them a finished product they can use as a gift or decoration.
For more ideas on spending time with your senior loved ones, visit our website today!