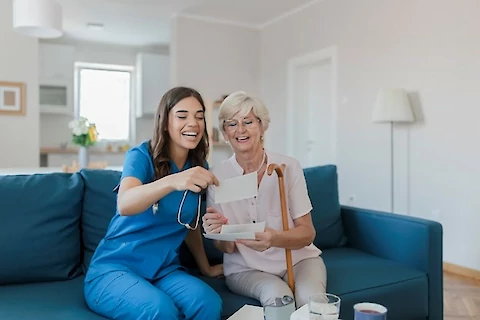 The decision to get more help for your parents can be a difficult one to make. Inviting strangers into the house to provide in-home care can be a daunting prospect. However, if you ask the right questions, you can rest assured that you'll find the perfect agency for your parents.
Unsure about where to start? Here are some questions you should ask before procuring in-home care services.
How Do You Hire Caregivers?
It's important to ask about the credentials or experience of caregivers. This may not be as critical for routine visits, but if you have someone coming in to help with medical needs, you'll want to make sure that they are well-equipped for the job.
How Do You Monitor the Quality of Care?
The quality of care is important. You'll want to make sure that your loved ones are getting the help they need. An experienced agency will have processes in place to monitor how well their caregivers are doing.
How Do You Keep in Contact With the Family?
If your parents suffer from chronic diseases, you'll want to be kept apprised of new developments or changes in their condition. So, it's important to talk to the in-home care agency about how you'll be kept up to date with everything.
You should ask how often you will get updates as well as how you will receive them. Will caregivers call over the phone or email reports to you? Most companies have policies in place to share updates with family members, so it's important to know what to expect.
What Services Do You Provide?
There are many companies offering unique types of services. The services you procure will depend on the needs of your loved ones. For example, you may just need someone to check up on your loved ones for an hour or two a day.
Or, you may need someone to go shopping for your loved ones and help with the house and yard work. Perhaps, your loved ones may require twenty-four-hour care. Respite care is also a good service to consider. This gives you a much-needed break from caregiving.
Once you decide to hire outside help, it's important that you find caregivers you can trust. You'll want to make sure that the caregivers you choose are right for the job. Be sure to ask the in-home care agency about care options so that you can get the right amount of care your loved one needs.
If you believe that your parents or other loved ones need more help at home, don't hesitate to contact us. We would be glad to talk to you about your options for consistent senior care in the Deerfield, Highland Park, Lake Forest, and Lake Villa areas to make sure that your loved ones can continue to live at home as long as possible.