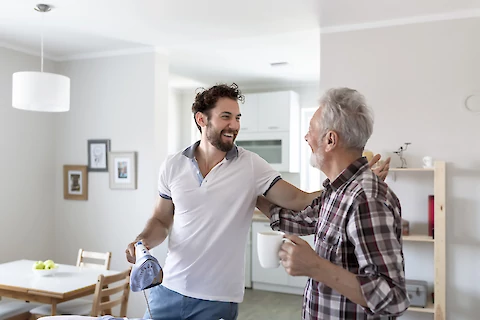 We all want our parents to live full, independent, and healthy lives as they get older. For that reason, the children of aging parents need to know how best to support them physically and emotionally.
The professional caretakers at Senior Helpers Chicagoland North/Northwest serving the Deerfield, Highland Park, and Lake Villa areas understand what you are going through. They see first hand just how much the things you do to support aging parents can make a difference in their quality of life.
Here's their advice:
Spend Quality Time Together
Though you may call, there's no substitute for spending quality time with your parents. And, when you visit, avoid scheduling too many activities. Going from one activity to the next within a short space of time may do more harm than good.
A shared meal and an evening together can make an important difference. For this reason, we recommend spending this type of quality time with your parents as often as possible.
Get Them Out of the House
Many seniors get lonely and bored at home. So, it's important to find ways to get them out of the house. If they are pretty mobile, take them to the zoo, aquarium, or museum. If they aren't, going out to dinner and a movie is always fun.
You may also be able to plan day trips to spend quality time with your parents. Consider a trip to the beach or the mountains. You can also try visiting places they used to take you in your childhood years.
Get Them Help With Activities of Daily Living (ADL)
Consider that your parents may need help navigating the activities of daily living (ADL) at home. They may struggle with basic yard care, housework, dressing, and grooming. In addition, they may find shopping and making meals an increasing challenge.
If you are able to help your parents around the house, it's a good idea to do so. However, if you can't, you may need to find someone else who can. Do you have other siblings or relatives who would be willing to help? Can you hire someone to mow the lawn or keep the hedges trimmed?
You may also want to look into getting care services to support aging parents. Many agencies offer a wide variety of options, depending on your parents' needs. You may be able to have someone come in for a few hours a week or even a day. Consider procuring 24-hour care, if necessary.
If you want to make sure that your parents have a good quality of life, take away as many burdens as you can, without hurting their feelings.
Finally, if you've made the decision to procure care services for your parents, don't hesitate to contact us. We would be glad to meet with you, discuss your concerns, and come up with an individualized plan that will work for everyone.