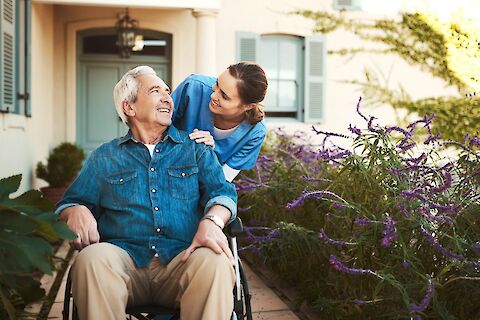 Helping Your Loved One With a Loss of Independence
Everyone ages differently. For some, the transition from middle age to their senior years is seamless and uneventful. Others become increasingly susceptible to acquired disabilities such as Alzheimer's disease or the loss of motor function due to broken bones. In between the two extremes is an entire spectrum of abilities and experiences. For many along that spectrum, aging in place means a loss of independence.
Types of Independence
When people hear the term "loss of independence", they tend to think of lost motor function that impairs activities of daily living (ADLs). While loss of motor function can be incredibly challenging to seniors aging in place, there are many other types of independence as well. Among them are:
Cognitive

Emotional

Social

Physical
Cognitive independence is a person's mental functioning. Alzheimer's disease and other types of dementia are conditions that erode cognitive independence.
Even if a person is physically able to carry out ADLs, the aging process might affect their will to engage in regular activities, or they might be reluctant to ask for help, even with simple issues. In extreme cases they might self-isolate and not leave the house for extended periods of time.
Strategies for Helping a Loved One Cope
Loss of independence can be frustrating and frightening, but there are a number of strategies available for home caregivers assisting loved ones to age in place.
Patience
Patience is an important factor when dealing with your loved one's reduced independence. It helps to remember that whatever your loved one is currently experiencing is not representative of their entire life. They've spent far more of their life as an independent person. Have patience with their situation.
Foster New Focal Points
Purposeful activity is an important component of psychosocial well-being. Your loved one might not be able to participate in past hobbies or interests anymore, but part of senior companionship is finding new ways to engage them. Giving them a meaningful focal point can help ease the emotional toll that comes from lost independence.
Provide Companionship
Sometimes just being there for your loved one is the most beneficial thing that you can do. Everyone needs a support system, just like everyone needs socialization. Senior companionship is a gift to loved ones with physical and cognitive impairments.
Promote Areas Where They Can Still Exercise Independence
There are varying degrees of independence. Your loved one might not be able to drive to the store, but they may be able to take care of their own essential needs. Providing in-home care is a tightrope act between doing what is necessary for your loved one and enabling them to do what they can for themselves.
Reaching Out for Help
Senior Helpers of Deerfield, Highland Park, Lake Forest, and the surrounding areas can help you and your loved one no matter what stage of independence they are currently at. For seniors who still retain some physical capabilities, we offer our Wellness Watch service where we check in periodically with a focus on safety and socialization. If your loved one needs more extensive intervention, we offer live-in home care services designed to assist with ADLs. To establish a plan of care for your loved one, please contact Senior Helpers of Greater Chicagoland today.