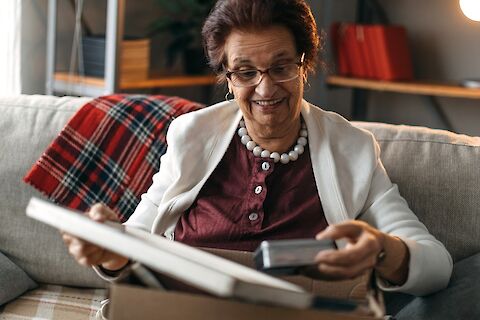 Follow This Fun Formula to Assemble the Perfect Senior Care Package
You don't have to live nearby to stay close with your senior loved one. The benefits to seniors of maintaining close contact with family have long been demonstrated. They include bolstering self-esteem, providing a sense of belonging, and offering emotional support. While there are many ways that you can stay connected to your loved one from a distance, few are quite as delightful as sending the perfect senior care package.
While typically reserved for brides, the old adage, "Something old, something new, something borrowed, and something blue" can also be used as a blueprint for assembling the perfect care package. Read on for our formula for care package success.
Something Old
Consider kicking off your care package with a memento from the past. For example, a photograph of a family event, an old letter, or a trinket from a past family trip are all items that make your mailing unique. Incorporating something from the past ensures that your care package is wholly personalized for your recipient, adding an element that can't be bought off the shelf.
Something New
There are a few ways to incorporate something new into your care package. Sending along something that is thoroughly modern age, such as a Netflix subscription, electronic reading device, or digital photo frame helps keep your loved one current and can offer a fresh take on a classic gift.
Another way to offer your loved one something new is to send them a gift card that lets them pick something new. A few dollars to a nearby restaurant, grocery delivery, or digital bucks to spend at an online retailer lets your loved one pick out a few new treats to brighten their day.
Something Borrowed
You can incorporate something borrowed into your care package by sending along an item of your own that you enjoy. You could send along a paperback that you've recently finished with a note inviting your loved one to read it and then call you to discuss it when they're done. Or, lend your loved one something seasonal, like a bit of holiday décor, and make a plan to retrieve it at a future visit.
Something Blue
Lastly, our something blue category works for incorporating art, color, and creativity into your package. Include an adult coloring book, a few printed off coloring pages, a cross-stitch kit, colored pencils, a watercolor set, markers—the list goes on.
Overall, the best care packages include a combination of both meaningful mementos and engaging activities for your senior to enjoy.
Learn More About Assembling the Perfect Senior Care Package
And remember, even if you can't be with your loved one, it doesn't mean that they have to be alone. Arranging professional senior companionship is another way to show your care from afar.
Senior Helpers Chicagoland North offers a comprehensive suite of programs and services to assist seniors in Deerfield, Highland Park, Lake Forest, and surrounding areas. For more information about 24-hour senior care in-home services, contact us today.