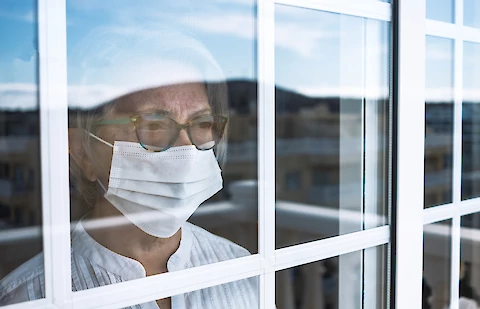 Companionship for Seniors Social Distancing in Lake Forest
Almost everyone id experiencing some level of loss of connection due to quarantine and social distancing during the COVID-19 pandemic. This has never been more true for the elderly who aren't always up to date with technology and may prefer to keep in touch the "old-fashioned way" with in-person gatherings.
Unfortunately, in Lake Forest and across the country, meeting with friends and family in person has become very risky for the aging population. Many have determined the negative consequences of contracting the illness to be far greater than the effects of spending so much time alone.
If you are worried about your elderly family and friends, there are some steps you can take to ensure they remain healthy both physically and mentally.
1. Video Calls
There are a number of resources available to make video calls to your elderly loved ones. For those using Apple products, FaceTime comes pre-installed on the devices and all the recipient needs to do is accept the call just as they would a phone call. Other apps that have become popular recently are Zoom, Facebook's Messenger app, and Skype. You can find alternative apps with descriptions to determine what is most appropriate for you and your life on this list. Create a schedule for your family to ensure that your loved one is being checked on and e-visited with regularly. This won't replace the joy of in-person greetings, but it is definitely a step above a simple phone call. You can even take it another step and order food delivered to their home and enjoy a meal together over a video call.
2. Help Them Find a New Hobby
Nothing helps pass the time better than participating in an activity that you love. If your senior loved one already has hobbies, send them a care package with items that they can use to continue practicing their favorite activity. Otherwise, think of your loved one's interests and do a little research to find social distancing-appropriate activities that they can do. Create a hobby-sampler and send them a few items from a list of possible activities and see if anything sticks. Even something as simple as sending books to read or puzzle books full of Sudoku or crosswords can provide a break from the monotony of living alone.
3. Hire a Companion
Having a companion come visit your loved one regularly will help improve their mental and emotional well-being as well as put your mind at ease when you aren't able to be there for them physically. At Senior Helpers we provide services from helpers who can run errands, do light housekeeping tasks and most importantly provide caring companionship and conversation. For more information about our companion services, visit the Companion Care page on our website.
We are committed to the safety and well-being of your loved one and will do everything we can to ensure they remain safe and happy while social distancing. We have established and reinforced the need to follow strict guidelines on cleaning and transmission prevention during the COVID-19 pandemic. For information and FAQs about our practices during the coronavirus outbreak, please visit our website here.
To take the next step in acquiring companion care or learn about our other services that we provide in Lake Forest or the Greater Chicagoland, contact us today!