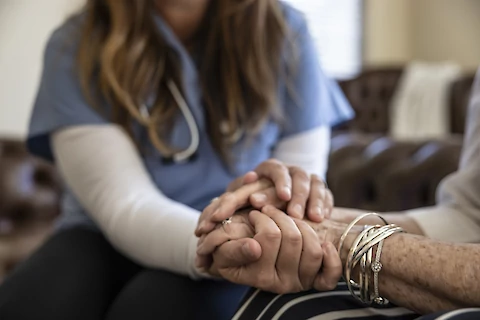 What Is Palliative Medicine & How Does It Work?
Senior adults who are experiencing health challenges have the option of receiving several different types of medical care from their caregiver or relative. One type of care that has received a lot of attention over the past few years is palliative medicine. Palliative medicine is a medical philosophy aimed at improving the quality of life for seniors facing difficult health challenges. In this blog post, courtesy of Senior Helpers Palm Coast, we'll explore what palliative medicine really is and how it works to improve the quality of life for senior loved ones. 
What Is Palliative Medicine?
At its core, according to the Mayo Clinic, palliative medicine seeks to decrease suffering related to pain and illness through various treatments such as medications or therapeutic interventions.  Ideally, it is used in conjunction with compassion-driven communication techniques between experts and senior adults. It does not focus on curing an illness but instead looks at finding ways to ease physical symptoms while also providing psychological support throughout a patient's treatment journey. Additionally, it seeks ways to help build strong relationships between family members/caretakers involved in the care process ensuring everyone understands each other's goals and roles clearly so they can work together functionally on what matters most – improving quality of life! 
How Does Palliative Medicine Work?
Palliative medicine works by channeling multidisciplinary care from an expert team of professionals including pharmacists, nurses, palliative specialists, and social workers who monitor assessments to ensure the senior's care plan is accurate and up to date. They strive to help bring comfort through a deep understanding of the diagnosis/illness and its impact on both physical and mental health as well as overall wellness. With this knowledge, they seek ways to improve everyday activities such as sleep, mobility, or communication in order to maximize a senior's quality of life - even if other treatments like surgery cannot be performed due to complexity or excessive risk. 
Challenges of Palliative Care 
It can be difficult for any family member or caregiver to replace traditional medical treatment options with palliative care because usually, it involves accepting that certain medical conditions or diseases have become untreatable and that you will instead need to focus on making your senior loved one as comfortable as possible. As a result, senior adults will likely require compassionate assistance every step along their journey – meaning physical support for actions such as eating/bathing; emotional encouragement during periods when depression sets in, and spiritual hope within moments when little seems possible.
Senior Helpers Offers Premier Senior Care
Although there are some challenges involved with using palliative medicine over more traditional treatments, there are numerous positives to the practice. Senior Helpers Palm Coast is invested in helping senior adults live their very best lives, no matter what type of medical treatment they prefer. Contact Senior Helpers today to learn about the premium in-home senior care services that we offer in Palm Coast, Bunnell, Flagler County, St. Johns County, Volusia County, and St. Augustine areas.