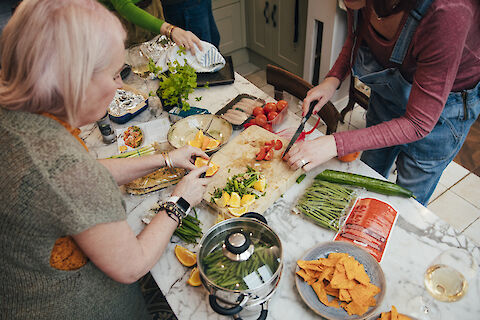 As the spring holidays approach, many seniors are looking forward to celebrating the Passover Seder with their families. But preparing a large meal can be challenging, especially if mobility issues make getting around the kitchen harder. With some tips in mind, you can have an easier time preparing a big Seder meal without your mobility concerns getting in the way. 
Host a Potluck
Inviting friends and family over to celebrate the Seder is what makes the occasion so enjoyable. Make it even easier on yourself by letting everyone know that this year's feast will be potluck-style. Assign each guest a dish, so you'll have fewer dishes to prepare. This also reduces the amount of shopping you need to do.
Cook With a Loved One
When preparing a big Seder meal, have a family member or friend help with work that is difficult for you. If you have difficulty lifting heavy items, ask your loved one to help you carry food-filled pots to the counter or table. If you have difficulty peeling vegetables, ask them to help to complete the task instead. Having a loved one to work alongside you will make your Seder preparations easier and more enjoyable.
Adapt Your Seder Meal To Your Capabilities
If you have difficulty preparing a large Seder meal, don't be afraid to adapt the recipes to fit your abilities and your needs. For instance, if you don't have the energy to make a full meal, you can create a smaller version with fewer dishes. You can even adapt a few of the recipes so there are fewer ingredients to wrangle and mix. Adapting your meal to fit your capabilities will ensure that you don't become overwhelmed or exhausted.
Use Assistive Devices in the Kitchen
If you have mobility issues or difficulty using your hands, assistive devices are available to make tasks in the kitchen easier. You can purchase kitchen tools designed specifically for people with disabilities or mobility issues, such as:
A grabber tool to reach and grip items on high shelves
A gripped jar opener
A kitchen mixer that does all the work
Large handled spoons and pans
An automatic can opener
Cut-resistant gloves
A palm peeler
If you're unsure of what kind of assistive devices would be best for you, consult a medical health professional for further guidance.
Work With a Caregiver 
If you need help cooking a large Seder meal, you may want to consider hiring a caregiver. A caregiver can assist you with tasks around the kitchen, from preparing and cooking the meal to setting the table and cleaning up. Having a caregiver on hand will make your Seder preparations easier and give you more time to spend with your loved ones. 
Hire Senior Helpers Palm Coast
Hosting and preparing a big Seder meal doesn't have to be overwhelming. With a little help from family and friends, you can make this Passover holiday a joyful and meaningful celebration. If you need help in the kitchen with your Seder preparations, meal planning, or grocery shopping, don't hesitate to contact Senior Helpers Palm Coast. We provide in-home senior care services throughout St. Johns, St. Augustine, Flagler, Palm Coast, Bunnell, and Volusia County.