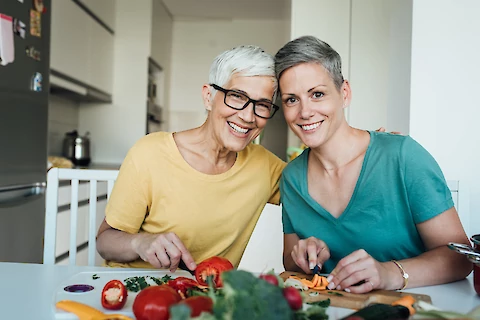 Preparing Meal Plans With Low Sodium and Low Fat or Carbohydrate Counts for Diabetic Relatives
Seniors who have been diagnosed with diabetes require special consideration when it comes to meal planning. While everyone needs to eat healthy and balanced meals, those living with diabetes must be especially mindful of their diet choices. A low-sodium and low-fat or carbohydrate meal plan is necessary for diabetics to stay healthy and on track. In this post from Senior Helpers Palm Coast, we'll discuss the benefits of such a diet, as well as how to make meal planning and preparation easy.
The Benefits of Low Sodium and Low-Fat Diets for Diabetics 
It's no secret that certain foods can affect your blood sugar levels more than others. Complex carbohydrates, like rice or potatoes, take longer to digest creating slower increases in blood sugar. On the other hand, simple carbohydrates, like sugary sweets, cause a sharp rise followed by a steep drop in blood glucose level shortly after. Eating too much sodium—which is found in processed food but also in overly salted dishes—can cause hypertension. In general, experts recommend that those with diabetes should follow a diet low in sodium and low in saturated fat in order to keep blood sugar levels steady.
Creating a Meal Plan 
Creating diabetic-friendly meals may sound intimidating at first. Still, there are plenty of easy recipes online that make it easy to plan and prepare low-carb meals that are tasty as well as nutritious. Be sure to include plenty of vegetables and fruits in the meal plan, while limiting the amount of saturated fat from sweets, fried foods, or frozen meals. Making meals with lean proteins such as egg whites, chicken, and fish is also important. Avoiding processed foods or those high in sodium like canned soups and meats can help minimize spikes in blood sugar levels.
Make Meal Preparation Easy 
For busy households who may not have a lot of time for intricate recipes or home cooking, there are plenty of products available that provide healthy options without having to cook from scratch every day. Consider pre-made frozen dinners labeled as "diabetic friendly"—which usually means they are low-carb, low-sodium, and free from trans fats—as well as freshly prepared items from your local grocery store's deli section. It's a good idea to head to the grocery store once a week supermarket to buy all the necessary ingredients ahead of time. This will make meal preparation faster on busy nights you don't have enough hours left over to prepare an elaborate dish.
Senior Helpers Helps Seniors Live Healthy Lifestyles
A nutritious diet is vital for caregivers looking after diagnosed diabetics. However, preparing healthy food on a regular basis does not have to be overwhelming if you're creative about it! With the right combinations and prepped ingredients on hand, creating diabetes-friendly meals has never been easier. If you're interested in premium senior care services in Palm Coast, Bunnell, Flagler, St. Johns, Volusia County, and St. Augustine, contact Senior Helpers Palm Coast today!