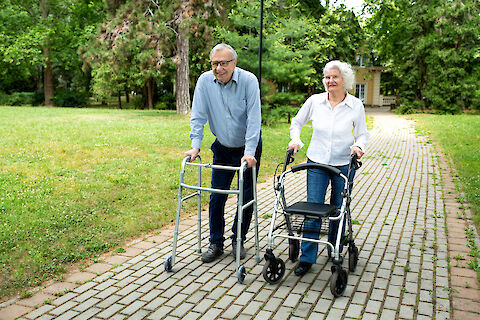 As we age, daily tasks can become increasingly challenging, making it all the more important to find ways to maintain our independence and safety. Assistive devices can be a huge help in achieving this goal, allowing seniors to age comfortably, whether it's at home or out in public. In this blog post, we will explore the top assistive devices every senior should consider owning, focusing on items that improve quality of life, promote independence, and make everyday tasks easier. 
Top Assistive Devices
Having the right assistive devices can make seniors' lives much easier.
Mobility Aids
Walkers are a popular choice for seniors needing increased stability and support, helping them to maintain their independence. While walkers provide excellent assistance, it's important to keep in mind that they can be bulky and difficult to transport. Canes, on the other hand, are lightweight and portable, making them convenient for daily use. They can also help improve balance, but it's worth noting that canes may not provide enough support for some seniors. 
For those with limited mobility who need help traveling longer distances, wheelchairs and scooters can be invaluable. However, these options can be expensive and require storage space, so they may not be suitable for everyone.
Bathroom Safety Devices
The bathroom can be a particularly dangerous area for seniors, making safety devices essential. Grab bars provide support and stability, helping to prevent falls. Be aware that they may require professional installation to ensure they are secure. Raised toilet seats are another useful addition to the bathroom, making it easier for seniors to sit and stand. However, not all toilet styles are compatible with these elevated seats.
Shower chairs are another great safety measure, enabling seniors to sit while showering and reducing the risk of falls. Keep in mind that these chairs may take up a bit of space in the shower, so consider the size of your bathroom before investing in one.
Daily Living Aids
Reachers and grabbers can be a convenient tools to help seniors pick up items without the need to bend down or stretch. While they are handy, they may not be strong enough to lift heavy items, so it's essential to consider the weight of the objects you wish to retrieve. Another helpful device is ajar opener, which can make opening stubborn jars much easier. However, these openers may not work with all jar sizes, so it's good to have a variety on hand.
Medication organizers are crucial for seniors who take multiple medications daily, helping to keep track of dosages and timings. Keep in mind that some organizers may not accommodate a large number of pills, so choose the right design for your needs.
Technology Solutions
Medical alert systems can provide seniors with immediate assistance during emergencies, offering peace of mind for both seniors and their families. These systems often require a monthly subscription fee, so it's essential to factor that into your budget. Amplified telephones are another useful technology, making communication easier for seniors with hearing loss. Be sure to check compatibility with your phone service before purchasing one.
Large-print keyboards can be a game-changer for seniors with vision impairments, making it much easier to type and use computers. Ensure that your device is compatible with the keyboard before investing in one.
Assistance At Home Makes the Difference
Assistive devices play a crucial role in promoting independence, safety, and improved quality of life for seniors. As you explore these options, consider how each device can best support your lifestyle and needs. Furthermore, consider how options like in-home care can help you maintain mobility and independence longer. For seniors living in Palm Coast, Bunnell, Flagler, St. Johns, Volusia County, and St. Augustine, contact Senior Helpers Palm Coast for assistance with daily tasks of living.