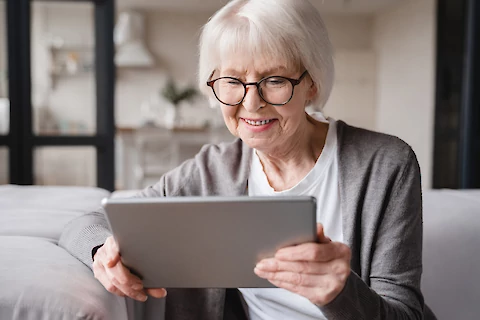 Imagine making everyday tasks easy, more convenient, and safer for seniors and their caregivers. That's the power of assistive technology! As our loved ones age, finding ways to improve their quality of life and support their caregivers becomes increasingly crucial. Let's explore the world of assistive technology specifically designed for seniors and caregivers, discussing the various types, potential benefits, and how to integrate these technologies into daily routines. 
Types of Assistive Technology for Seniors and Caregivers
Many assistive technology devices can help improve the quality of life for seniors. 
Mobility
Mobility aids, such as walkers, wheelchairs, and scooters, can significantly enhance an individual's ability to move around and maintain independence, especially for those with physical limitations. 
Communication
Communication devices like smartphones, tablets, and voice-activated assistants are vital in helping seniors stay connected with their loved ones and the world around them.
Medication Management
For caregivers, medication management tools like pill dispensers and medication reminders can aid in ensuring that seniors adhere to their prescribed regimen, reducing the likelihood of missed doses or medication-related complications. 
Home Safety
Home safety devices, including fall detection systems and security cameras, create a secure environment for seniors. They also give caregivers peace of mind whenever they are away. 
Health Monitoring
Health monitoring devices like wearables and telehealth systems provide valuable data to track seniors' health and help healthcare providers make informed decisions. 
Cognitive
Cognitive assistance tools like memory aids and brain training apps can be beneficial in maintaining and even improving cognitive function in seniors.
Benefits of Assistive Technology
The benefits of assistive technology are numerous. Perhaps the most significant is the increased independence it offers seniors. By utilizing these tools, seniors can accomplish tasks they may have previously relied on a caregiver to complete. This independence, in turn, leads to an enhanced sense of self-confidence and autonomy. Additionally, assistive technology contributes to a safer and more secure environment for seniors, reducing the likelihood of accidents or emergencies.
For caregivers, using assistive technology can result in more efficient caregiving practices, allowing them to focus on other essential responsibilities or take much-needed breaks. Assistive technology can help reduce stress and burnout, improving the caregiving experience. Furthermore, assistive technology enables improved communication and socialization for seniors. This technology lets them stay in touch with friends and family, reducing the risk of social isolation and depression.
How to Integrate Assistive Technology into Daily Routines
To successfully integrate assistive technology into daily routines, assess your need first. Research and select appropriate devices that cater to your specific requirements. Once you choose a device, ensure you and your senior loved one know how to use it. 
Resistance to change can be a hurdle when introducing new technology. You can help mitigate this by emphasizing the benefits and improvements to the quality of life offered by assistive technology and involving seniors in the decision-making process. 
We Can Help You Make the Most of Assistive Technology
By exploring and embracing these innovative technologies, we can help our loved ones maintain their independence, foster better communication, and ensure their safety and well-being. If you live in West Palm Beach, Jupiter, Belle Glade, Lake Worth, or Palm Beach County and are looking for personalized assistance in selecting and implementing the right assistive technology, contact Senior Helpers North Palm Beach. Our team of experienced professionals focuses on helping seniors and their caregivers make the most of these life-enhancing technologies.