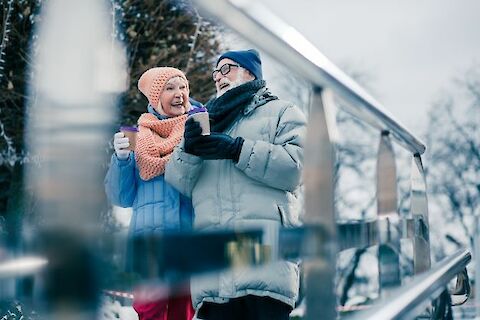 The winter season has rolled in, and this means freezing temperatures and longer night hours. While most homeowners have already checked off their winter to-do list to brave the harsh winter conditions, there are important changes homeowners living with senior loved ones should make to lower risky winter maintenance tasks that could frustrate the seniors or compromise their health. Here are four ways you can winter-proof your homes for senior residents.
Check the Fireplace
A fireplace is the hub of most homes. It creates a cozy and warm atmosphere essential for braving the cold winter season. While there are different kinds of fireplaces, most environmentally conscious homeowners prefer wood-burning fireplaces for the benefits they offer, such as:
Being an excellent heat source during winter power outages
Being eco-friendly
Being affordable
Cutting energy costs
However, a poorly maintained fireplace can be hazardous during winter. Carbon monoxide poisoning and chimney fires are more prevalent issues resulting from poorly maintained fireplaces. According to the CDC, about 430 people die annually from accidental carbon monoxide poisoning, and approximately 50,000 people visit the emergency department for the same reason.
Furthermore, research shows that about 25,000 chimney fire cases and 25 deaths are reported annually in the U.S.
How to Fix It
Homeowners should:
Install carbon monoxide detectors and make sure to replace their batteries twice a year
Use wooden stoves approved by the EPA
Hire professionals to clean and inspect the chimneys at least once a year
Check the Air Filters
Air filters are part of an HVAC system. They remove indoor air pollutants such as dust, molds, pollen, and pet dander. Indoor air quality is crucial for any homeowner, and an available and functional air filter can mean the difference between degraded and good indoor air quality. According to the EPA, poor indoor air quality can lead to respiratory diseases, and seniors are often the most susceptible.
How to Fix It
Over time, dirt and other indoor pollutants build up on air filters, eventually interfering with their efficiency. This may compromise a senior's indoor air quality, leaving them vulnerable to diseases related to indoor air pollutants. 
Most HVAC companies and manufacturers recommend air filter replacement every three months to prevent such incidents.
Improve the Lighting
Lighting is an important design element. While there are different types of lighting, such as task, ambient, and accent lighting, good lighting brings life to a space and improves visibility and mood.
During winter, outdoor visibility decreases. When the landscape light is poor, the chances of seniors slipping and falling are high, especially when they are doing outdoor activities.
How to Fix It
Homeowners should increase a sense of safety by:
Repairing malfunctioning lights
Installing path lights along walkways and entrances to increase visibility
Motion-sensor lights are an excellent option for homeowners looking for a more energy-efficient solution.
Minimize Falling
The wetness and the icy surfaces from the wintry conditions pose major tripping and slipping hazards to everyone, particularly the seniors. Per the CDC, one out of four seniors suffers a fall every year.
Falls are the leading cause of serious injuries such as hip fractures and head injuries.
How to Fix It
To help cut down a senior's risk of falling or tripping, caregivers should:
Repair broken steps
Remove door mats with poor traction
Remove clutter
Put high-quality and highly absorbent mats at the entrances
Install ice or snow grips on seniors' walking devices
Call the Experts
We have your back if you are looking for expertly trained in-home caregivers to help a senior loved one winter-proof their home. Senor Helper Naples and Bonita Springs is the premier provider of in-home senior care throughout Naples, Bonita Springs, Estero, and Marco Island.
We provide customized home care services ranging from companion care to comprehensive specialized care for seniors with chronic conditions such as Alzheimer's disease, dementia, and Parkinson's disease. Contact us today for more details.