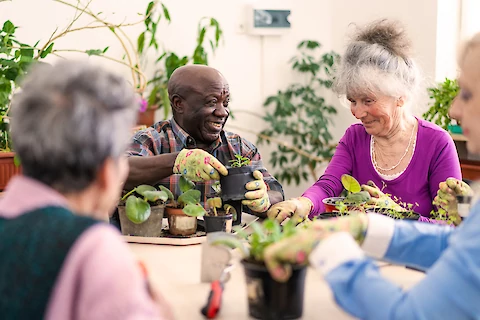 Spring has arrived, and with it comes the perfect opportunity for seniors to join a community garden project in their local area! Community gardens provide a space for neighbors to come together, grow fresh produce, as well as create lasting friendships. In this blog post, we will discuss some of the benefits of community gardening for seniors and provide tips on how to find the best gardening projects in their local areas.
Benefits of Community Gardening for Seniors
For seniors, these gardens offer a multitude of benefits, from improving mental and physical health to fostering meaningful social connections. Participating in community gardens can greatly impact the lives of seniors by providing numerous mental and physical benefits.
On the mental health front, community gardens promote social interaction, which is essential for combating loneliness and boosting overall well-being. In addition, the calming effects of nature can help reduce stress and anxiety levels among seniors.
From a physical standpoint, gardening also provides an enjoyable and low-impact form of exercise. Whether it's planting seeds, pulling weeds, or harvesting fresh produce, community gardening offers plenty of opportunities for seniors to stay active. Plus, access to fresh, nutritious fruits and vegetables contributes to maintaining a healthy diet.
Local Community Gardening Opportunities for Seniors
Check out some of these local community gardening opportunities:
Broomfield:
Broomfield Community Garden at Holy Comforter Episcopal Church provides garden plots for rent and educational programs on gardening and sustainability.
Broomfield Senior Center offers a variety of garden-related programs, workshops, as well as clubs for seniors to enjoy.
Arvada:
Arvada Community Garden welcomes gardeners of all ages and experience levels to grow their own produce.
Majestic View Nature Center also provides a range of gardening classes and workshops for seniors to learn new skills.
Westminster:
Thornton:
Thornton Community Garden provides an inviting space for residents to come together and grow fresh produce.
Thornton Senior Center houses a gardening club for seniors to share their love of plants with others.
Northglenn:
Northglenn Community Garden welcomes local gardeners to cultivate their crops in a communal setting.
Northglenn Senior Center also organizes gardening activities for seniors to enjoy together.
Wheat Ridge:
Wheat Ridge Community Garden promotes sustainable gardening practices as well as encourages community collaboration.
Wheat Ridge Recreation Center offers gardening classes for seniors to enhance their skills and knowledge.
Lafayette:
Lafayette Community Garden features rental plots for residents to grow their own fresh produce.
Lafayette Senior Center provides gardening programs for seniors to explore their green thumbs.
Aurora:
Aurora Community Garden encourages local residents to come together and grow healthy, fresh food.
Aurora Senior Center hosts gardening workshops geared towards seniors to learn, connect, and grow.
Commerce City:
Commerce City Community Garden supports a collaborative environment for residents to grow fresh produce.
Commerce City Senior Center offers gardening activities as well as classes for seniors to learn and engage with fellow gardeners.
Denver:
Denver Urban Gardens also operates numerous community gardens throughout the city, facilitating the growth of healthy communities.
Denver Botanic Gardens provides senior programs and activities that promote healthy living, horticultural education, as well as social engagement.
To find community garden projects and activities near you, consider checking local city websites, parks and recreation departments, and Senior Centers. Additionally, the Denver Urban Gardens website and social media groups and pages can be useful resources for discovering gardening opportunities.
Before joining a community garden project, take some time to research the garden's requirements, visit the garden to get a feel for the environment, as well as chat with current members. Attending garden-related events and workshops in your area is also another great way to connect with fellow gardeners and learn more about the community.
Senior Helpers Denver South Can Garden With You
This spring, consider joining a community garden project near you to reap the rewards of an active and engaged lifestyle as a senior in the Broomfield, Arvada, Westminster, Thornton, Northglenn, Wheat Ridge, Lafayette, Aurora, Commerce City, or Denver area.
At Senior Helpers Denver South, our caregivers can garden with you or provide transportation to your local community garden. Reach out to us today to learn more about our in-home care services!