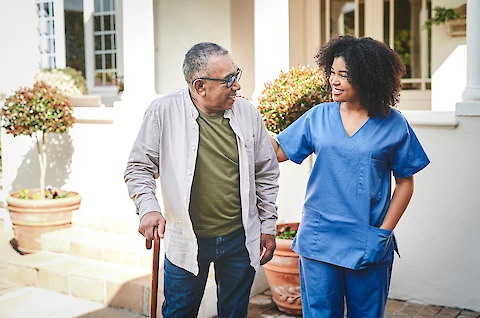 National Caregiver's Day reminds us to take the time to express gratitude and acknowledge the amazing contributions that caregivers make in our lives. It marks a special opportunity for loved ones, family members, and friends of all ages to show their support and appreciation for their dedicated caregivers. Senior Helpers Torrance takes seriously its commitment to providing heartfelt companionship and person-centered care services every day of the year, not just on National Caregivers Day.
What Is National Caregivers Day?
National Caregiver's Day is held annually on the first Tuesday of December 6th. It has been celebrated in this way since 2006, to recognize and appreciate all professional, unpaid individuals who are essential caregivers for family members or friends with special needs, illnesses, or disabilities.
Why Is Showing Appreciation to Caregivers Important? 
Caregivers are under-acknowledged and often overlooked by society. Yet, they do so much for us every day — from providing companionship to taking one out of the house and providing social engagement. While those services may not be quantified in monetary value, it does not lessen their importance nor our appreciation for the heart that caregivers put into all they do. 
How to Show Appreciation to Caregivers
Simple gestures go a long way when saying thank you to caregivers. These small acts of kindness can make a big difference in the lives of caregivers, boosting their morale and reminding them that their efforts are valued and appreciated.
Express Gratitude in Person
Make sure to take the time to thank your caregivers in person. Appreciation doesn't have to be expensive, but it should come from the heart so that they feel valued and appreciated for everything they do. 
Give a Gift
Give them something small but meaningful, such as a gift card or flowers. This is a simple gesture that can go a long way and let the person know you are thinking of them on this special day. 
Write a Handwritten Note
Along with a gift, writing a heartfelt letter or card can show your appreciation for all of their hard work. A short message expressing how much you care and appreciate them will mean the world. 
Give a Compliment
Verbal compliments are always appreciated. Let them know how much you value their help and support, or think of a funny but kind joke to make them laugh.
Offer a Helping Hand
Finally, offering an occasional helping hand can show your caregivers how much you care. Whether it's taking on household chores or tasks they may struggle with, doing what you can to lighten their load will surely be appreciated 
Let Senior Helpers Lighten the Load
At Senior Helpers Torrance, we take pride in providing quality care with compassion and heart. Our caregivers serve as trusted companions for our clients and their families daily. Contact us today to learn more about our services in Torrance, Palos Verdes, Manhattan Beach, Redondo Beach, and Westchester.