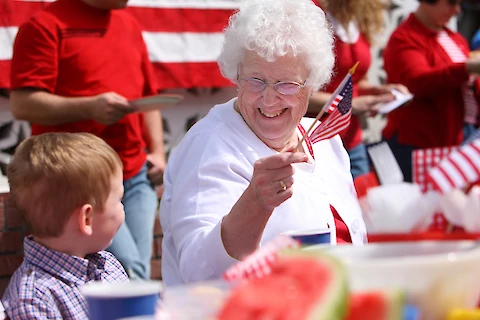 Memorial Day is a special time to honor and remember those who have made the ultimate sacrifice for our country. Including our senior loved ones in the celebrations is a wonderful way to keep the spirit of the holiday alive and ensure they feel included in this meaningful occasion. This Memorial Day, it's all about making lasting memories and paying tribute to our fallen heroes while respecting the needs and limitations of our cherished seniors.
1. Attend Local Events Together
Various community events, such as parades and memorial ceremonies, often mark Memorial Day. You can start by looking for local events. Choose those that are most senior-friendly and plan to attend them with your loved one. To ensure their comfort and enjoyment, assist them in preparing for the events by gathering any necessary items, such as a hat, sunscreen, or a comfortable chair.
2. Participate in Virtual Parades
Due to the pandemic, many events have been moved online, making virtual parades and ceremonies a popular alternative. Virtual events are a great option for seniors with physical limitations or those who prefer to stay at home. You can find virtual parades and events through local news sources or social media platforms. Enjoy these virtual festivities together from the comfort of your living room.
3. Share Stories of Family Members Who Served
Memorial Day is an excellent opportunity to reminisce about family members who have served in the military. Encourage your senior loved one to share their stories, as preserving these memories for future generations is essential. Consider creating a family scrapbook or recording the stories to ensure their legacy lives on.
4. Watch War Documentaries or Movies
Watching documentaries or movies related to Memorial Day can be an engaging and educational way for you and your senior loved one to spend time together. Select films that resonate with their interests and preferences, and engage in discussions to further bond and learn from each other. Some popular options include "Band of Brothers," "Saving Private Ryan," and "The Pacific."
5. Create a Memorial Display
Creating a small display in your senior loved one's home can be a meaningful way to honor fallen soldiers. This display can include items such as photos of family members who served, flags, and other memorabilia. Encourage your loved one to be involved in the creation process as much as possible to make the project even more special.
6. Write Letters to Veterans
Showing support for our veterans is crucial, especially on Memorial Day. Consider writing letters or sending care packages to veterans in local VA hospitals or nursing homes. Your senior loved one can participate in this heartwarming act of gratitude by helping draft the letters or choosing items for the care packages.
7. Cook a Traditional Memorial Day Meal
Family cookouts are a beloved tradition on Memorial Day, representing unity and togetherness. Plan a meal together with your senior loved one, considering their dietary needs. Encourage them to share their favorite Memorial Day recipes or family traditions as you cook side by side, fostering connection and warmth.
Senior Helpers Torrance Enjoys Celebrating Holidays With Seniors
Incorporating your senior loved one into Memorial Day celebrations is essential to preserving the spirit of the holiday, while also creating lasting memories. Be creative, respectful, and mindful of your senior's needs as you commemorate the day together. If you reside in Torrance, Palos Verdes, Manhattan Beach, Redondo Beach, or Westchester, and are looking for help with senior care, don't hesitate to reach out to Senior Helpers Torrance. Their dedicated team is here to provide the support you and your senior loved one need.