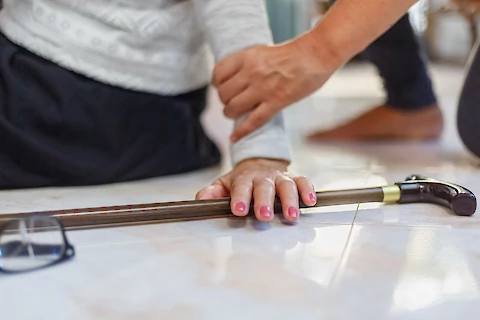 What better way to spread the word about fall prevention during Fall Prevention Awareness Month than to offer some advice? The elderly fall almost 36 million times a year, which causes more than 32,000 fatalities, according to the CDC.
Falls can be fatal or result in permanent disability, but there is good news: you can reduce your elderly loved one's risk of falling.
One quick and easy technique to lower the risk of older persons falling is to install railings and bars all throughout the house. Rails provide assistance and stability when entering and exiting the shower or bathtub, and bars can help them maintain their balance.
Seniors must maintain stability and balance to prevent falls. In order to keep your elderly loved one safe, we've compiled a list of the top three rails and bars you may install at home if you live in Santa Rosa, Ukiah, Sebastopol, or Rohnert Park.
Grab Bars for the Shower or Bathtub
Senior citizens frequently trip and fall while bathing or showering. Cuts, fractures, head trauma, and even death can result from this. Installing grab bars in a senior's shower or bathtub can help them avoid falls.
Choose the best grab bars for your needs from the numerous options on the market. Permanent grip bars, for example, are preferable because they provide additional stability and support.
Grab Bars Beside the Bed
Seniors with mobility issues may find it difficult to get in and out of bed, increasing their risk of falling. To prevent this, grab bars can be installed on either side of the bed. Your elderly relative from Santa Rosa, Ukiah, Sebastopol, or Rohnert Park can use them as bed support once they are set up.
They can also use the bars to help them get out of bed and stand straight.
Make certain that the grab bars you select are made of durable materials and are simple to install. Choose shoes with a rough surface to improve grip.
Stairwell Handrails to Avoid Fall
It is critical to install railings on every step in the multi-level home where your elderly loved one life. This will prevent them from slipping and falling if they have something to grip onto while ascending or descending the steps.
When making your selection, choose railings made of long-lasting materials such as stainless steel or aluminum. Additionally, they should be simple to grasp so that your senior loved one can do so.
Special Care for the Seniors
Falling kills more seniors in the United States than any other cause, so this is not something to take lightly. To reduce the high rates of accidents involving the elderly in Santa Rosa, Ukiah, Sebastopol, Rohnert Park, and other parts of the country, caregivers must first secure their homes. Caregivers must work with in-home care specialists to manage their tasks and avoid caregiver burnout.
Senior Helpers Santa Rosa Wine Country's in-home elder care specialists can meet your needs for home safety. We provide high-quality in-home senior care in Santa Rosa, Ukiah, Sebastopol, and Rohnert Park to ensure your loved one's well-being. Contact us right away to learn more!