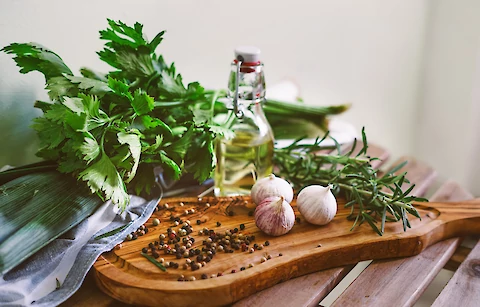 Cooking with herbs is an amazing way to add flavor to your meals while also giving your heart health a boost. Herbs offer numerous health benefits and can be used to create delicious and nutritious recipes that just happen to be good for your heart. At Senior Helpers Santa Rosa Wine Country, we are passionate about helping seniors make healthy lifestyle choices, including eating a heart-healthy diet. Read on to discover some of our favorite recipes that incorporate tasty herbs.
Benefits of Eating Herbs
Herbs are often packed with the same beneficial vitamins and minerals as vegetables. Adding them to your diet can have a profound impact on your heart health. Here are some of the main benefits of incorporating herbs into your diet: 
Lower Blood Pressure 
Herbs like ginger, garlic, and turmeric have been shown to reduce blood pressure levels helping to protect the heart from damage. 
Reduce the Risk of Heart Disease 
Herbs such as rosemary, oregano, and thyme are high in antioxidants which can help reduce the risk of developing heart disease.
Improve Digestive Function 
Herbs like cilantro, sage, and parsley can help improve digestion and reduce inflammation which, in turn, can help protect the heart.
Heart-Healthy Recipes With Herbs
Ready to get cooking with herbs? Check out these delicious and nutritious recipes filled with all the savory herbs beneficial to your heart health. 
Herb-Infused Smoothie — Start your day off right with this simple-to-prepare and nutritious breakfast smoothie. Blend together kale, banana, almond milk, chia seeds, and your favorite heart-healthy herbs such as mint, basil, or rosemary. 
Roasted Vegetables with Fresh Herbs — This easy and flavorful dish incorporates heart-healthy herbs such as oregano, basil, parsley, and thyme. Simply toss your favorite vegetables in oil, add the herbs, and spread on a baking sheet. Bake in a 425° oven until vegetables are tender.
Lentil and Herb Salad — This mixed greens salad is a perfect accompaniment to any other heart-healthy meal. Combine cooked lentils, greens, and your favorite herbs, including flavorful choices like cilantro, mint, or dill. Drizzle with olive oil and lemon juice or with your favorite low-fat dressing. 
Herb-Rubbed Grilled Chicken — This flavorful dish is guaranteed to please even the most discerning eater. Marinate chicken breasts in herbs like oregano, thyme, and rosemary. Then coat the chicken with a rub of olive oil, garlic powder, and more herbs. Grill until cooked through, and enjoy! 
Herb-Spiced Fish — This light and appetizing dinner come together in no time at all. Coat fish fillets with olive oil and herbs such as dill, parsley, and thyme, and bake in the oven. Serve with a side of roasted vegetables or a mixed greens salad. 
Senior Helpers Can Help
Create tasty recipes that incorporate heart-healthy herbs. If you find this challenging, the professional caregivers of Senior Helpers Santa Rosa Wine Country can help. We are committed to helping seniors live longer, healthier lives. If you or a loved one needs expert in-home senior care services in Santa Rosa, Ukiah, Sebastopol, Rohnert Park, and surrounding areas, contact us today to learn more.