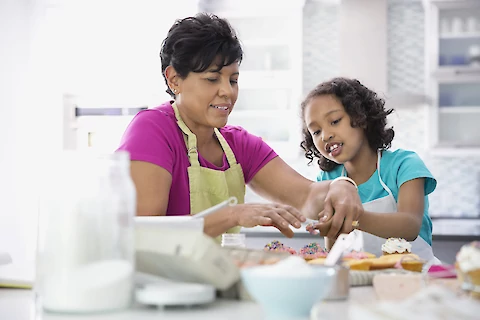 With the holiday season only a few days away, families are looking forward to spending time with their loved ones and making new memories. Senior loved ones can create these memories with their grandchildren with low-key activities that can engage everyone.
It's essential to provide easier activities that won't tax the energy of a senior loved one with limited mobility. With a little creativity and imagination, grandparents and grandchildren can partake in activities that provide oodles of fun in Santa Rosa.
Here's a look at five low-key activities for grandparents and grandchildren to explore this holiday season:
1. Low-Key Activities Include Making Holiday Decorations
No matter the age of the grandchildren, they will love the chance to make holiday decorations with their grandparents. From cutting out snowflakes to making turkeys out of handprints, there are dozens of ideas to create holiday decorations while sitting comfortably at the kitchen table in Sebastopol. Together, grandparents and grandchildren can choose the perfect spots to display these new holiday decorations. Then, they can be stored for future celebrations.
2. Decorate Cupcakes and Cookies
Baking and the holidays are almost synonymous. If your senior loved one struggles with mobility, they might not be up for the baking portion of the festivities. However, grandparents and grandchildren can head up the decorating committee. A decorating station can be created in a Rohnert Park kitchen with icing in a rainbow of colors, chocolate chips, small pieces of candies, and sprinkles.
3. Enjoy a Game or Puzzle for Low-Key Activities
Just in time for Thanksgiving Day, November 21st starts the National Game and Puzzle Week. Game night is almost always a family tradition, and this year, it can become a new holiday tradition. Another popular option is jigsaw puzzles. If a senior grandparent is staying with the family for a few days, a puzzle can be a fun activity to fill the downtime.
4. Story Time
No matter the winter holiday, there's a children's book written about it. Precious memories don't get any better than a grandchild curled into a grandparent's lap listening to a story. This type of activity can easily become a nightly activity during a senior loved one's visit.
5. Make Gifts
Many of the winter holidays have a gift-giving component, and children love giving people presents. In the days leading up to the holidays, grandparents can help their grandchildren make a gift for their parents. This can, indeed, be anything from painting and placing it in a frame to making candles or soap with older children.
Enjoy Free Time Without Worry With the Help of Senior Helpers Santa Rosa
Fill this holiday season with memories made from these low-key activities for seniors and grandchildren. Need a helping hand to care for a senior loved one in Santa Rosa, Ukiah, Sebastopol, or Rohnert Park? Senior Helpers wants to help! Contact us today to learn more.