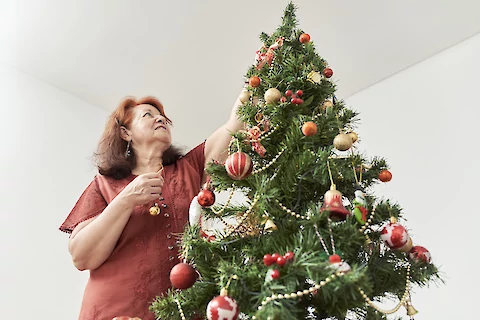 Air in people's homes is presumed to be clean and safe. Unfortunately, this is not always the case, particularly during the holiday season. The severity of the pandemic and pollution in Santa Rosa, Ukiah, Sebastopol, and Rohnert Park has put the Indoor Air Quality (IAQ) topic at the top of many people's minds in recent years. And while the decorations are queuing up this fall and winter season, it's critical to understand their impact on the air quality of your home. As a caregiver, you should be extremely careful about your choice of decorations because air quality can aggravate a senior's health.
Here are five decorations that may degrade your home's air quality.
Decorations With Costumes and Accessories
The materials used to create Halloween costumes are generally inexpensive and harmful. They release a strong odor that could be a warning sign for seniors. According to research, many of them contain hazardous substances like phthalates, chlorine, and bromine. Throughout their lifespan, these chemicals have the potential to harm a senior loved one's brain and immune system.
For costumes and decorations, you should avoid vinyl products and opt for PVC-free or natural materials. Use natural pigments derived from fruits, vegetables, flowers, and other botanicals in organic, plant-based cosmetics while doing makeup.
Scented Candles
Regular paraffin-perfumed candles are a significant source of indoor air pollution. The hazardous substances released when burning paraffin could harm seniors with respiratory conditions. Instead, you may choose battery-powered candles or those made of soy, which emit fewer air pollutants.
Smoke Machines
In addition to other chemicals, fog machines employ water, dry ice, and liquid nitrogen to produce a fog effect. These substances can be detrimental to asthmatic seniors because they may experience coughing, chest tightness, and other asthma symptoms when exposed to water-based fog. If you decide to use a smoke machine, ensure the air conditioner is running to circulate the air, or pick a smoke machine that uses liquid air as it doesn't lower the room's oxygen level.
Wood Burning Fireplace
Warm and festive, wood-burning fireplaces are very common. However, they also discharge small and harmful particles into the air. Better alternatives include electric, gas, and propane burners because they don't emit dangerous particles although providing the same level of warmth over the holiday season.
Artificial Plants and Trees
PVC, a material commonly used to create artificial trees, emits volatile organic chemicals (VOCs). VOCs can affect senior family members and continually irritate the lungs and sinuses. Look for a polyethylene-made fake tree if you need to buy one. While no plastic is entirely safe, polyethylene doesn't have the same issues as PVC and is safer around seniors.
Create a Safe Space for Seniors
In addition to helping elderly loved ones discover the best ways to prepare their homes for the fall and winter, Senior Helpers of Santa Rosa also keeps an eye out for their safety. We are in the Santa Rosa, Ukiah, Sebastopol, and Rohnert Park areas. Get in touch with us today and we will set up the care of your senior loved one.