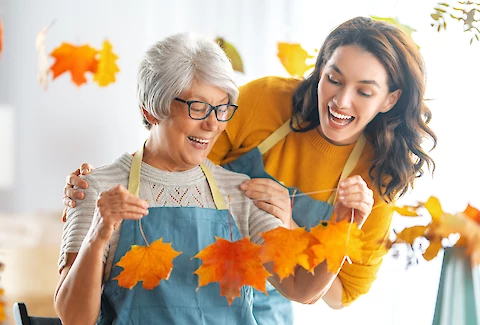 3 Fun Ways Seniors Can Prepare Their Homes for Autumn
A great way for anyone to celebrate the autumn season is to recognize the changing season and the ways that the world around you is altering for the season. Seniors can participate in a celebration of the fall season by doing a few different types of activities that are particularly fun during autumn. Senior Helpers Santa Rosa Wine Country will help you look at some of those activities today. 
Get Involved With Crafting
Autumn is one of the best seasons to start participating in crafting. The weather has changed in such a way that you will want to stay indoors and remain cozy. If you are going to spend time indoors anyway, then you will want to take advantage of this and get to crafting. There are a lot of different crafts that seniors can enjoy without strain including: 
Knitting
Painting
Creating handmade goods
The process of slowing down and putting some effort into a craft is something that people often take great pleasure in. They not only have something nice to show for their work when it is done, but they get some pleasure from performing the activity itself while they are actively working on it. Thus, crafting is truthfully the perfect activity during virtually any time of year. 
Try a Fall Festival
Check your local area for businesses and organizations that may be putting on fall festivals during this time of year. There are often many different places that will put on a special festival for this specific time of year. If you plan ahead, you can find when and where the best festivals will be. 
Fall festivals are a lot of fun because they tend to showcase local businesses and the community in general. People from all walks of life can attend, and they have plenty of events that are senior-friendly. You may enjoy the ability to shop a white elephant sale, sample some of the foods of the season, and perhaps even play a carnival game or two. No matter what, the most important thing is to get yourself to a fall festival that you know will provide for all of your needs and keep you coming back for more. 
Bake Some Fall Treats
What could be better than making your home have the scent of fall all throughout it? That is precisely what you can get if you start to bake some of your favorite fall treats in your own home. This may include cookies, pies, and other baked goods that you just can't get enough of. Most likely, you are going to want to make those treats with some pumpkin flavor to them as that is the taste of the season. No matter what, the most important thing is to make sure you get great fall treats cooked in your home so you can start enjoying the season exactly the way that it needs to be enjoyed. 
There are many things to think about when it comes to how to set up your home for autumn, but the most important thing to remember is that you need to be sure that you hit the highlights such as those listed above. 
Senior Helpers Santa Rosa Wine Country can help any senior learn about the best ways to prepare their home for autumn. Additionally, Senior Helpers Santa Rosa Wine Country is happy to help with any other services that may be of use to seniors who require some assistance and care.