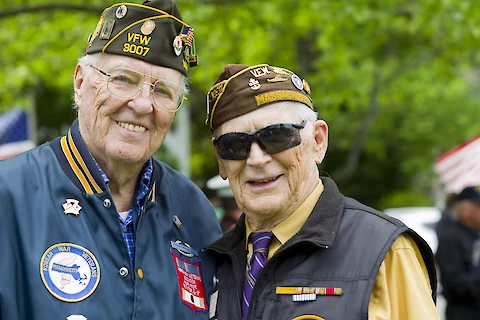 May is Military Appreciation Month, a time to celebrate and honor the brave men and women who have served and continue to serve our country. This special month is particularly important for recognizing and appreciating the sacrifices and contributions made by senior veterans. 
In this easy-to-read guide, we will highlight some of the top discounts, events, and offers for seniors throughout May, both nationally and locally. Whether you're a senior veteran yourself or have a loved one who is, read on to discover a variety of ways to make the most of Military Appreciation Month.
National Offers and Benefits
One of the highlights of Military Appreciation Month is Armed Forces Day on May 21st. On this day, senior veterans can enjoy free entrance to national parks across the country. This provides a great opportunity for them to explore the natural beauty of the country with their loved ones. Additionally, many retail stores and restaurants offer special discounts for veterans on Armed Forces Day, so be sure to take advantage of these deals for a fun-filled day of shopping and dining.
Memorial Day, which falls on May 30th this year, is another day when senior veterans can enjoy free entrance to national parks. Similar to Armed Forces Day, many businesses also extend special discounts to veterans on Memorial Day, making it a perfect day to enjoy a meal out, attend a local event, or simply relax and reflect with loved ones.
Senior veterans can also benefit from joining Veterans Advantage, a membership program that offers exclusive discounts to veterans and their families. With discounts on travel, shopping, dining, and much more, Veterans Advantage is a valuable resource for making the most of Military Appreciation Month.
Local Offers and Benefits
In Ukiah, Mendocino County Veterans Services is a valuable resource for senior veterans seeking assistance with benefits, education, employment, and housing. During Military Appreciation Month, the Veterans Resource Center typically hosts events and programs for veterans to enjoy, so be sure to stay updated on their offerings.
Sebastopol Area Senior Center is another fantastic resource for senior veterans living in the area. Throughout Military Appreciation Month, the center often hosts special events and activities specifically for veterans to celebrate and honor their service.
Rohnert Park Senior Center also offers a variety of events and activities for veterans during May. Keep an eye on their calendar to stay updated on all the happenings and make the most of Military Appreciation Month.
Tips for Finding Additional Discounts and Offers
To make the most of Military Appreciation Month, be proactive in checking with local businesses and organizations for military discounts. Many places will offer special deals during May, but it's worth asking about discounts year-round as well.
Visiting websites for local attractions and events can also help you discover additional discounts and offers available for senior veterans. You can also use social media to follow your favorite businesses and organizations and find out about local offers and promotions during Military Appreciation Month and beyond.
We Support Our Veterans
With so many discounts, events, and offers available this May, there are countless ways for senior veterans and their families to enjoy special experiences and make lasting memories. For assistance and support in making the most of Military Appreciation Month, don't hesitate to contact us at Senior Helpers Santa Rosa Wine Country. 
Our team is dedicated to helping seniors live their best lives and is always here to lend a helping hand. Whether you need assistance with day-to-day self-care, help with household tasks, or transportation to local Military Appreciation Month events, we're here to help.