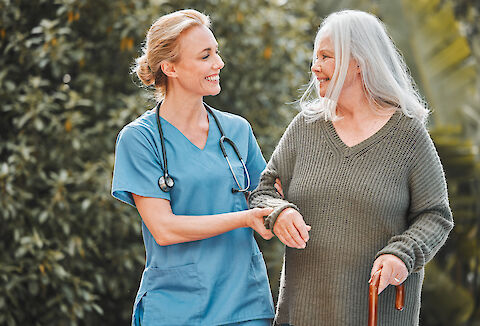 National Nurses Day is an annual celebration dedicated to acknowledging and appreciating the hard work, dedication, and compassion nurses bring to healthcare. As a senior, it's likely you've encountered nurses during hospital stays, outpatient care, or even in-home visits, and have experienced firsthand the positive impact they have on their patients' lives. If you want to show your appreciation for them on this special day, here are some ways you can do so.
1. Send Thank You Notes
A heartfelt thank you note can go a long way in expressing your appreciation for a nurse who has made a significant impact on your life. Consider writing a personal note, sharing specific memories or experiences that stood out to you during your time together. A few thoughtful words can make a world of difference in showing your gratitude.
2. Drop By for a Friendly Visit
Rather than relying on a written note, you may prefer to share your appreciation in person. A simple expression of gratitude, accompanied by a warm smile and a handshake or hug (if appropriate), can create a genuine connection and show the nurse how much their care means to you. Always check with the hospital's administration beforehand, though.
3. Make a Gift
If you enjoy working with your hands, creating a homemade gift can be both enjoyable for you and meaningful to the nurse. Small knit or crochet items such as scarves or blankets, or even a plate of freshly baked cookies, can be a delightful way to demonstrate your appreciation.
4. Give a Glowing Review
Another effective way to celebrate National Nurses Day is by sharing a positive review or testimonial about the nurse's exceptional care. You can write a review to their employer, on Google, or on a medical professional review site, which could help bolster their professional reputation. You might also want to share your experience on social media, tagging the nurse or their workplace (if possible) to spread the word about their incredible dedication to their patients.
5. Throw an Appreciation Party
Organizing a small celebration or gathering is another option to consider when thinking about how to celebrate nurses on National Nurses Day. By inviting other patients or friends who have also been impacted by the nurse's care, you can create a supportive environment to share stories and memories, highlighting the nurse's contributions to your community.
6. Volunteer
Offering to help out at the nurse's hospital can also be a powerful way to show your appreciation. If appropriate, consider assisting the nurse's workplace with tasks or projects, or volunteer at a local healthcare organization in the nurse's honor. 
7. Become an Advocate
Using your voice to advocate for nurses and their profession is yet another way to celebrate National Nurses Day. Share on social media information about the importance of the day and the incredible work nurses do, or advocate for better working conditions and support for nurses in your community.
8. Make a Donation
Contribute to a local nursing scholarship or healthcare-related charity in the nurse's name. This not only recognizes their importance but also supports the future of nursing and healthcare for others.
Meet Our Professional Home Care Heroes!
National Nurses Day offers a meaningful opportunity to celebrate and recognize the exceptional care nurses provide. No matter how you show your appreciation, your efforts will surely touch the hearts of these dedicated healthcare professionals.
If you or a loved one in Santa Rosa, Ukiah, Sebastopol, or Rohnert Park need professional senior care services, from assistance with daily self-care tasks to friendly companionship, we're here for you. Contact us at Senior Helpers Santa Rosa Wine Country to learn more about our compassionate and professional caregivers.