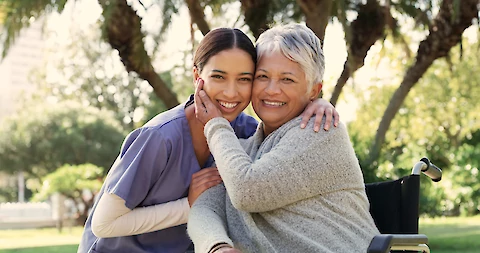 Being a caregiver can be a difficult, thankless task. It's important to recognize the hardworking caregivers who assist your loved ones on a daily basis and show them that you appreciate their compassion and efforts. National Caregivers Day provides an opportunity for families to give back in meaningful ways and show appreciation for hired caregivers.
What is National Caregivers Day?
National Caregivers Day is celebrated annually on the third Friday in February. As an important holiday for caregivers, it acknowledges and honors the amazing job they do in making life easier for others. Celebrating National Caregiver Day can also help show your appreciation for caregivers everywhere who demonstrate selflessness and dedication to providing care for seniors.
National Caregivers Day was established by the Providers Association for Home Health & Hospice Agencies (PAHHHA) in 2015. They aimed to dedicate a day annually to recognize and appreciate caregivers everywhere. The first celebration of the holiday took place on the third Friday of February in 2016.
Showing Appreciation for Caregivers
Showing appreciation for caregivers who work closely with our loved ones is a great way to recognize National Caregivers Day. In fact, there are several simple options for honoring caregivers in ways they will appreciate.
Let Them Know
Telling a caregiver their work is noticed and appreciated is the best first step. In fact, it can be a simple "thank you."
Well-written notes or cards can also show a caregiver how much their work matters. When writing these notes, try to be specific and personalized. This way, the caregiver knows you appreciate their specific work and their efforts are not going unnoticed.
Post on Social Media
A social media post is a simple, easy way to celebrate the day and honor caregivers. Not only will you be publicly supporting this hard-working group, but your post may also alert other people to the importance of caregiving work. Posting a picture of your loved one with their caregiver can show how important they are to your family's daily life.
Gifts
For caregivers, a small gift can be especially meaningful. Consider giving gift cards for goods and services they enjoy or gifting items that can help make their job easier. In fact, books can also be meaningful gifts! Another gift option is to make a donation to a caregiver's favorite charitable organization in their name.
Ask About Their Lives
For some caregivers, the hardest part of the job is that there isn't much room to express themselves. A friendly conversation about their own life, family, as well as interests shows them that you appreciate them as a person in addition to appreciating the work they do for your senior.
Senior Helpers Offers Professional Caregiving Services
This National Caregivers Day, you can show appreciation for the hard work that caregivers do with a simple gesture or gift. If you need help finding a caregiver for your loved one in the Loma Linda, Redlands, Grand Terrace, San Bernardino, Colton, Yucaipa, or Rialto areas, contact Senior Helpers of San Bernardino.
Our compassionate professionals offer a wide variety of in-home, personalized caregiving services such as running errands, meal prep, and housekeeping.