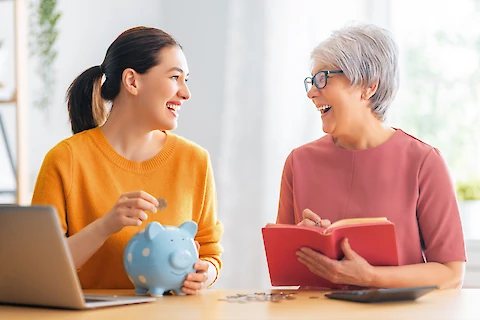 If you're in the San Bernardino area and tasked with caring for an aging family member, you understand the immense responsibility of being an in-home caretaker. Along with the emotional burden of caring for a loved one can come a financial burden. You must understand how to start reconsidering your finances when caring for seniors to accommodate all that they need for proper caretaking.
This blog post will give you tips for reconsidering finances when caring for seniors.
Financial Stress That Can Accompany Caretaking Responsibilities
Caring for an aging relative can put a big strain on your finances. Some costs associated with caring for seniors include medical expenses, in-home caregivers, home modifications and mobility aids, over-the-counter medications, and more. What's more, these costs can add up quickly, leaving you feeling overwhelmed and financially overburdened.
Identify Necessary Services and Supplies
Before you start reconsidering your finances when caring for seniors, it's important to identify the services and supplies they need. Categorize each need according to urgency, so that you can prioritize which needs should take precedence. This will also help you see where you should focus your financial efforts. If you are unsure what your loved one needs, consider speaking to their doctor or other healthcare professionals for guidance.
Evaluate Spending Habits
Next, take a close look at your spending habits. How much money do you have left at the end of the month after bills and expenses have been paid? Do you have any money to spare for caretaking services and supplies? If not, you may need to make some adjustments to your budget to make room for extra costs.
Find Financial Assistance
If your budget is already stretched to its limit, you may be able to find financial assistance. Elderly care services can be expensive and much of it is not covered by insurance. Look into programs like Medicaid, Veterans Benefits, and state and federal assistance. These can help to offset some of the costs of providing care for your loved one.
Establishing a Caretaking Budget
Once you have identified the necessary services and supplies, evaluated your spending habits, and looked into financial assistance options, it's time to establish a caretaking budget. Make sure to include both fixed costs (such as regular medication and utility bills) and variable costs (such as in-home caregiver fees and transportation costs) in your budget. Consider using budgeting apps and tools that can manage your expenses and help you stay on track.
Get Caregiving Assistance From Senior Helpers
Taking on the responsibility of caring for seniors can be daunting. However, with a little planning and preparation, you can take control of your finances. Be sure to evaluate your spending habits, identify necessary services and supplies, and look into financial assistance options, and you'll be well on your way to establishing an effective budget for caretaking.
If you need further assistance, Senior Helpers of San Bernardino is available to provide expert in-home care and support. Contact us today to find out how we can help you care for your loved ones in the Loma Linda, Redlands, Grand Terrace, San Bernardino, Colton, Yucaipa, and Rialto areas.