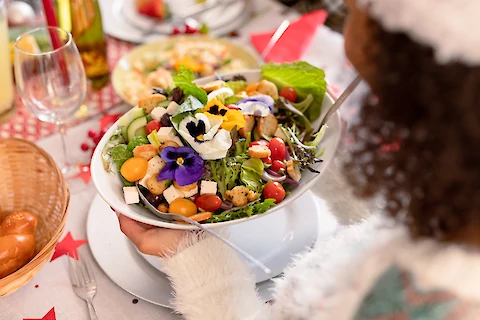 6 Festive Recipe Ideas for Vegetables This Holiday Season
Incorporating vegetables in meals is extremely important, especially for seniors in San Bernardino. Vegetables are rich in antioxidants and nutrients, which boost health and help fight off diseases. Having a variety of vegetables in the diet ensures one gets plenty of these nutrients.
Unfortunately, many people are unsure how to add vegetables in an appetizing way, especially when preparing holiday meals. They end up putting a single veggie as the side dish or none at all. Here are six recipe ideas to help add more nutrient-loaded veggies into seniors' diets without compromising on taste. 
Cooking a Veggie Omelet
Omelets are a great way to add vegetables to the holiday meal plan. Any type of vegetable tastes great in them, and one can load multiple veggies for lots of nutrition. Common vegetables to fill in omelets include bok choy, bell peppers, onions, spinach, tomatoes, and scallions. 
Preparing Savory Oatmeal
Oats don't have to tickle the sweet taste buds. One can prepare savory oatmeal to add more nutrients to the holiday morning meals. Typically, oats are great with cinnamon, raisin, or fresh fruit. But one can add in veggies such as kale and mushrooms for a savory treat.
Making Veggie Noodles
Veggie noodles are a fantastic choice to include in the holiday eating plan for seniors in Loma Linda. They are easy to make and only require inserting veggies into a spiralizer that churns them into noodle-like shapes. Veggie noodles have low carbs and are excellent substitutes for high carbs like pasta. One can make the noodles from different veggies, including sweet potatoes, zucchini, spaghetti squash, and carrots, all of which are nutrient-dense.
Adding Veggies to Sauces
Another way to encourage seniors in Yucaipa to consume more vegetables is by including them in sauces and dressings. While cooking holiday sauces such as marinara sauce, one can add several veggies and herbs of choice to the mix. These can be carrots, leafy greens like spinach, bell peppers, or chopped onions. Squash, beets, purple yam, turnips, and sweet potatoes make rich sauces as well.
Blending Veggies into Smoothies
One can add vegetables to their smoothies without compromising the flavor. Usual additions include spinach and kale. Adding veggies makes the smoothies a refreshing holiday snack or breakfast, just like fruits do. One can also blend beets, pumpkin, sweet potatoes, and zucchini into the smoothies.
Adding Vegetables to Casseroles
Another brilliant idea for increasing veggies intake for seniors in Grand Terrace during the holiday is including extra vegetables in casseroles. Casseroles usually combine potatoes, cheese, vegetables, and grain, like pasta or rice. 
Traditional casseroles often have high refined carbs and calories and are common during holidays when vegetable dishes may be less popular. Replacing grains with vegetables such as carrots, celery, broccoli, and mushrooms can help reduce calories. 
Professional Senior Caregivers at Senior Helpers San Bernardino 
There are multiple ways to incorporate vegetables into holiday meals for seniors in San Bernardino. Some, like spinach, sneak right into the recipes without causing much drama, while others, like sweet potatoes and beets, add flavor and color in ways no one would ever expect. 

Do you need help coming up with ideas to care for your senior's health? At Senior Helpers of San Bernardino, we can guide you in choosing the best home and respite care for senior loved ones. Our experienced and professional caregivers offer companion care, Parkinson's care, wellness watch services, and many more for elderly loved ones in the comfort of their homes. Contact us today for more details.