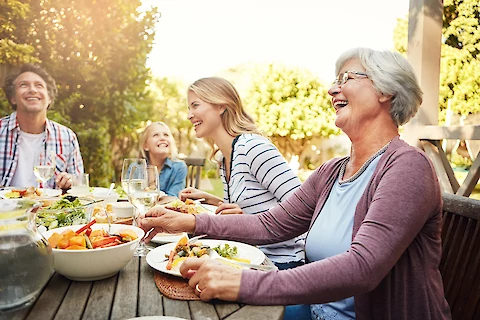 Mother's Day is a special time to honor and celebrate the incredible women who have shaped our lives. For seniors, it is important to make the most of this day, regardless of their mobility level or family situation.
This blog post from Senior Helpers San Bernardino explores creative and enjoyable ways for seniors to celebrate Mother's Day with attention to different abilities, interests, and circumstances in mind. Our goal is to offer ways in which Mother's Day can be enjoyed by all.
For Seniors With Limited Mobility
Technology can be a great ally in making Mother's Day special for seniors with limited mobility. Hosting a virtual Mother's Day celebration using video conferencing apps like Zoom or Skype helps you feel connected with family members as you share stories, memories, and laughter.
Another great idea is to create a personalized photo album or scrapbook by gathering old photos and mementos. In fact, it is the ideal way to spend time reminiscing while you assemble a beautiful keepsake that you can share with loved ones. Movie marathons featuring favorite films or ones with special meaning can also be a meaningful way to enjoy the day. Senior mothers can do this either in person with those nearby or virtually with distant family members.
For Seniors With More Mobility
For seniors who are able to venture out, taking a walk in a local park or garden can be a wonderful way to enjoy the beauty of nature and fresh air on Mother's Day. Community parks like Prospect Park in Redlands or the Oak Glen Preserve in Yucaipa offer seniors an idyllic setting for a peaceful stroll.
Seniors can also attend a local event or activity that aligns with personal interests including art, music, or history. Take advantage of local community happenings by participating in a hands-on activity or class like painting, cooking, or gardening. The San Bernardino County Museum is a haven for innovative exhibits and programs focused on the region. Sharing these experiences with loved ones is a great way to create lasting memories.
For Seniors Living Close to Loved Ones
Seniors with family members nearby have some additional options for memorable Mother's Day celebrations. One idea is to organize a family picnic in the area and enjoy homemade dishes and quality time together.
Hosting a themed Mother's Day party is another fun option. Choose a theme like a tea party or a favorite decade and encourage family members to dress up and participate in relevant activities related to the theme. Put together a family cookbook by gathering cherished family recipes from different generations. Seniors can bond with other generations of family members as they spend time together compiling and designing the cookbook.
For Seniors With Limited Access to Family
There are still ways to make Mother's Day special even when loved ones don't live nearby. One option is to connect with other seniors in the community by attending a local senior center event or gathering and sharing stories and experiences with new friends.
Volunteering for a local organization close to your heart can also be a fulfilling experience. You get to give back to the community while forging new friendships and connections. Write letters or assemble surprise care packages for family members. You can use the opportunity to share updates or memories with loved ones. Fill the packages with homemade treats or thoughtful gifts your family will cherish for years to come.
Senior Helpers Can Help Make Every Day Special
Senior Helpers offers the community the best in quality, in-home senior care. Our wide range of comprehensive services is customized to meet the individual needs of local seniors and their families.
For more information on how Senior Helpers San Bernardino can help make Mother's Day special for the seniors in your life, contact us today! Our compassionate team is dedicated to providing quality care and support for seniors living in Loma Linda, Redlands, Grand Terrace, San Bernardino, Colton, Yucaipa, and Rialto areas.