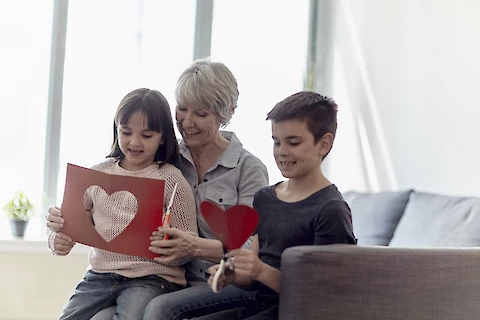 Valentine's Day is a special day to show your loved ones how much you care. But, when your senior loved one lives with you, planning a meaningful Valentine's Day celebration can be a challenge. After all, you want to keep their health and safety in mind. Read on for some tips from Senior Helpers Bakersfield on how to demonstrate love and appreciation this Valentine's Day! 
Tips for Celebrating Valentine's Day with Seniors
When celebrating Valentine's Day with seniors, the goal should be to create as meaningful and enjoyable an experience as possible. It is even better to include special traditions or touches that are of profound significance to your senior loved one. Here are some ways for relatives to plan special celebrations with their senior loved ones this Valentine's Day:
Create a Special Atmosphere 
Creating positive memories starts with the environment. Put extra care and attention into the decor. It doesn't matter what size gathering you are hosting. Choose decorations that are personal to your senior. If possible, include some of their favorite elements. If a senior loved one is over 80 and lives at home, it's best to limit the number of people in attendance. You can also hire in-home care services like companion caregivers. They can provide extra help or support during the festivities.
Involve Seniors in the Celebration 
Valentine's day with seniors will be more special by having them participate in the planning. Ask them what kind of music they enjoy. Find out how they want to decorate. Also, try to include specific activities that are important to them such as dancing or card games. Finally, encourage them to provide creative input in tasks like menu choices, recipe selections, etc. This ensures that each individual is involved and no one is left out! 
Focus on Quality Time 
Valentine's Day presents an excellent opportunity to spend quality time with your senior loved one. It is especially valuable for those seniors who might not be receiving regular visits from friends or relatives. Paying attention and listening carefully allows you to focus on being there for your senior loved one. Even organizing cozy blanket fort nights or movie screenings at home can provide a fun, fabulous way to spend the holiday. Simple acts of love make all the difference. They make these smaller but valuable moments between families eben more special.
Discover Premium In-Home Senior Care Services
At its core, Valentine's Day should be about celebrating those we love. Senior Helpers Bakersfield is all about ensuring that seniors can make the most of holiday celebrations all year long. If you are looking for premium senior care services in Bakersfield, Delano, Frazier Park, Kern County, Lamont, McFarland, Shafter, Taft, Wasco, or Wofford Heights, reach out to Senior Helpers today!