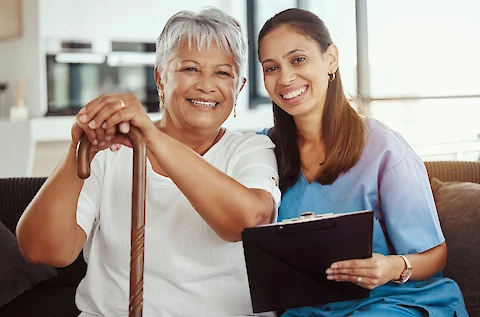 Navigating the world of healthcare can be daunting, especially when it comes to understanding the intricacies of Medicare and Medicaid. As a caregiver, it's crucial to have a clear understanding of these programs to ensure your loved one receives the best possible care. That's why we've created this comprehensive guide to help you gain a better understanding of Medicare and Medicaid, their differences, and how they can work together.
What Is Medicare?
Medicare is a federal health insurance program designed primarily for individuals aged 65 and older, as well as certain younger individuals with disabilities. To be eligible for Medicare, a person must be a U.S. citizen or legal resident for at least five consecutive years.
There are four parts to Medicare, each covering different aspects of healthcare:
Part A: Hospital insurance covers inpatient care in hospitals, skilled nursing facilities (not long-term care), hospice care, and some home health care services. Most people don't pay a premium for Part A if they or their spouse paid Medicare taxes while working.
Part B: Medical insurance covers medically necessary services like doctor visits, outpatient care, durable medical equipment, and preventive services. Part B requires a monthly premium.
Part C: Also known as Medicare Advantage plans, these are offered by private insurance companies approved by Medicare. They provide all the benefits of Parts A and B, often with additional benefits like vision, dental, and prescription drug coverage.
Part D: This is the prescription drug coverage offered through private insurance companies. It helps cover the cost of medications and requires a monthly premium.
To enroll in Medicare, you can visit the Social Security website or visit a nearby Kern County Social Security office. It's essential to review your options and choose the plan that best meets your loved one's needs. Be sure to understand the premiums, deductibles, and copayments associated with each plan.
What Is Medicaid?
Medicaid is a state and federal program that provides health coverage to low-income individuals, including seniors, people with disabilities, pregnant women, and children. Eligibility criteria and services covered may vary by state.
In Kern County, Medicaid covers services such as:
Hospital services, including inpatient and outpatient care.
Long-term care services, including nursing facility care and home and community-based services.
Prescription drugs, with some exceptions.
Other services like lab tests, x-rays, and mental health services.
To apply for Medicaid, visit the California Department of Health Care Services website or contact your local county human services agency. Make sure to gather all necessary documentation, such as proof of income and assets, before beginning the application process.
How Medicare and Medicaid Work Together
Some individuals qualify for both Medicare and Medicaid, which is known as being "dual eligible." In this case, Medicare usually pays first for covered services, and Medicaid fills in the gaps by covering Medicare premiums, deductibles, and copayments, as well as other services not covered by Medicare.
To maximize coverage and minimize out-of-pocket costs, be sure that your healthcare providers and pharmacy accept both Medicare and Medicaid. Keep track of all medical bills, explanation of benefits statements, and other paperwork to help in filing claims under both programs.
More Resources for Caregivers
Caregivers can access a wealth of information and support online and through local organizations. Websites like Medicare.gov and Medicaid.gov provides in-depth information on both programs, while local support groups and organizations offer personalized assistance and guidance. Don't hesitate to reach out to government agencies and programs for further help in understanding Medicare and Medicaid.
We're Here for You
Understanding Medicare and Medicaid is essential for caregivers, and we hope we've helped you to better understand these programs.  
Senior Helpers Bakersfield is here to help you ensure your loved one receives the best possible care in Bakersfield, Delano, Frazier Park, Kern County, Lamont, Mc Farland, Shafter, Taft, Wasco, and Wofford Heights. Don't hesitate to contact us for assistance in caring for your loved one.