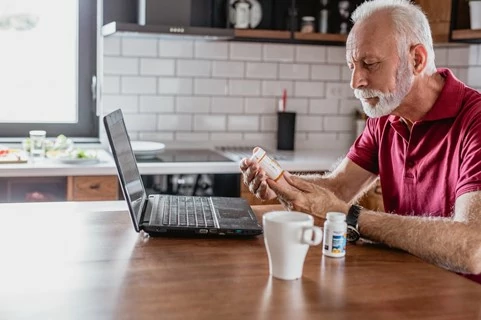 Medication mistakes are among the biggest causes of accidental injuries involving seniors. Life-threatening or even fatal prescription events happen each year to senior citizens. Here are four of the most common medication management mistakes and ways you can help your loved one stay safe.
Medication Taken Too Often
The most serious, yet common, medication mistake made by seniors is taking their medications too often. This mistake is often caused by early-onset dementia or memory problems. You'll find that this is more common in seniors than you realize.
Tip: To help prevent seniors from overdosing on medication, purchase a daily drug dispenser for medication management. The medication is put in the pill organizer so that the senior knows which medication to take daily.
A family member or in-home caregiver can make sure that the senior is putting the right pills in the organizer. Also, a pill organizer makes it easy to ensure that the senior is taking the medication as prescribed by the doctor.
Drug Interactions
Some drugs and even over-the-counter vitamins can interact negatively with medications. In fact, some drug interactions can be quite dangerous, leading to severe allergic reactions or even death.
Believe it or not, there are medications that react negatively to something as innocuous as grapefruit juice. Meanwhile, the combination of some medications and alcohol can result in severe, life-threatening consequences.
Mixing medications with alcohol is a very serious problem not only for seniors but other age groups, as well.
Tip: If you're unsure about drug interactions, speak with your doctor or pharmacist about the drugs your loved one is taking. This is good medication management. Also, if you are Internet savvy, research information online about different medications, side effects, and interactions with other drugs. However, always consult with your doctor before combining medications with vitamins or other supplements.
Medication Mix-Ups
It can be easy to mix medication up, especially when several types of pills look similar in color and shape. Medication mix-ups can also lead to overdoses and dangerous interactions.
Tip: When taking medications that look similar, check the dosing schedule. Some of these medications must be taken at different times of the day. To differentiate between medications, there are various types of medication dispensers on the market that separate medication for mornings, afternoons, and evenings. If your loved one is taking several types of medication, these dispensers may be useful.
Inaccurate Reading of Labels
It happens: you misinterpret a label. Poor eyesight can make it difficult to read the tiny labels on medication bottles. Misreading labels can easily lead to overdosing.
Tip: If there's a caregiver, family member, or neighbor around, ask them to double-check the labels on your loved one's medication bottles. They can also help mark the bottles for the time of day it should be taken if your loved one doesn't have a pill organizer.
Learn More About Medication Management
Although professional caregivers aren't allowed to dispense medication, they can help make sure that seniors take their medications safely. If you're considering hiring a caregiver in the Tanque Verde, Sabino Canyon, and East Tucson area for a loved one, contact us. Our caregivers are trained to avoid the most common medication management mistakes.