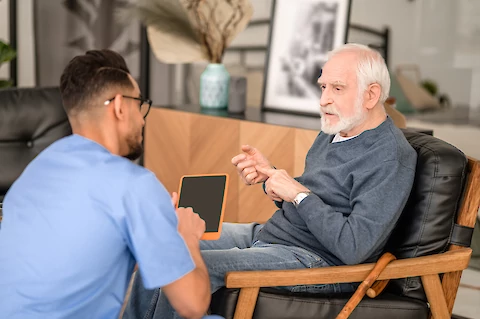 As people get older, many start to realize that they may need more help with the activities of daily living. Some seniors choose to move into nursing homes or assisted living facilities when they start to need more help with daily tasks. Others may want to stay at home for as long as possible. An in-home caregiver can help make many seniors more comfortable and provide them with essential support if they choose to age in place. 
What Are In-home Caregivers?
In-home caregivers are qualified and experienced individuals who provide assistance and care to elderly people in their own homes. They are trained and certified professionals who can help with meal preparation, transportation, medication management, personal care, and companionship. 
Professional in-home caregivers can provide the elderly with the support and assistance they need to remain independent and live comfortably in their own homes. Following are just a few of the benefits they can provide.
Benefit #1: Reduced Stress
One of the biggest benefits of hiring a professional in-home caregiver is the reduction of stress. During their senior years, elderly individuals may be faced with challenges associated with mobility, health conditions, mental decline, or cognitive issues. An in-home caregiver can help to reduce stress by providing assistance with activities such as grocery shopping, cooking, and other daily tasks that can become challenging for seniors.
Benefit #2: Companionship
In-home caregivers can provide companionship to elderly individuals who may be feeling lonely or isolated. Caregivers can be there to provide emotional support and friendship to seniors who may not get it from anyone else in their lives. A professional in-home caregiver can be an important source of companionship, comfort, and emotional support for elderly individuals.
Benefit #3: Medication Management
Professional caregivers can help elderly individuals manage their medications. They can help ensure that seniors are taking their medications on time and at the correct dosages. This can help to ensure that the elderly maintain their health and well-being.
Benefit #4: Mobility Assistance
Another benefit of hiring an in-home caregiver is the assistance they can provide with mobility. Professional in-home caregivers can help seniors with walking, getting in and out of bed, and transferring from chairs or wheelchairs. This can help elderly individuals feel more independent and secure in their own homes.
Benefit #5: Meal Preparation
In-home caregivers can also help with meal preparation. They can help seniors make nutritious and delicious meals that can provide fuel for their daily activities. Proper nutrition is essential for the elderly and should not be overlooked.
Benefit #6: Assistance with Activities of Daily Living
In-home caregivers can also help seniors with activities of daily living such as dressing, grooming, and bathing. This can help elderly individuals to remain independent while still receiving the care they need.
Contact Senior Helpers to Receive Help for Yourself or a Senior Loved One
In-home caregivers are an invaluable asset to elderly individuals. They provide a wide range of services and assistance to help seniors remain independent and safe in their own homes. At Senior Helpers Tucson East, our professional caregivers provide comprehensive in-home care for elderly individuals in East Tucson, Sabino Canyon, and Tanque Verde. If you are looking for reliable, professional, and compassionate senior care services, contact Senior Helpers Tucson East today!