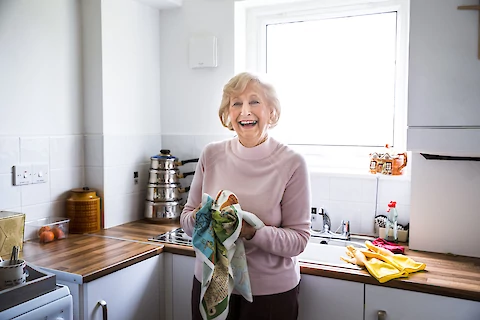 The modern home is full of hazards that a young adult may never notice—but as you get older, those issues can become inconvenient or even dangerous. Fortunately, there are some changes you can make to a senior's home to allow him or her to age in place more safely and comfortably.Consumer Reports notes that these changes can include universal design elements, added during a renovation, that make a home safer and more livable for people at any age. There are also smaller, less expensive projects you can take on yourself. Take a look!
Create More Space
Remove any unused furniture and scan the room for tripping hazards, like area rugs. This allows for smoother, safer travel throughout the room and gives your senior more room to maneuver. This could become especially important if he or she uses a cane or walker.
Eliminate Stairs
Now, you can't just lop off the second floor of a home, but you can make the necessities accessible on one level to limit the need for your senior to use the stairs. If there's a bedroom on the main level, make that their new room. In a remodel, you can create a new laundry room. Create one stepless entryway into the home.
If it's not possible to consolidate the senior's life on one level, you could install an electric stair lift.
Widen the Doorways
If you're remodeling anyway, make sure you install wider doors to decrease the risk of your senior bumping into the frame, whether they use a walker or wheelchair or not. In a larger remodel, you may want to remove entire walls to open the floor plan.
Add a Walk-In Shower
A wet floor plus a curb to step over poses a danger that a senior has to face on a daily basis. Walk-in showers are very popular, from a design standpoint, and they're much safer. You can add a seat, a grab bar, and textured slip-free tiles for added comfort and safety. If you don't want the bench yet, simply make the shower large enough that it could be added later if needed. A handheld shower head is also a nice touch, and makes it easier to shower from a seated position.
Change Door Knobs, Outlets, and Light Switches
Lever door knobs are more user-friendly than the familiar round knob, and changing them is a fairly simple and inexpensive do-it-yourself project. Outlets can be installed higher on the wall so your senior doesn't have to bend over to plug anything in. Finally, rocker-style light switches are easier to use than the traditional toggle switches you see almost everywhere.
Don't Just Listen—Watch
Your senior may tell you what he needs at home—or he may not. Spend time with him in the home and watch how he gets around, what he uses, and where the issues may be. This can help you determine if you need to make some structural or organizational changes, hire a home caregiver, and more.
If you're looking for seniorcompanionship to help your senior loved one age in place, Senior Helpers in Tucson is here for you. We offer the level of assistance you need, from preparing a meal to around-the-clock care.Contact us to learn more about our home caregiver services in Tucson and the whole Pima County area. We'd love to meet you!