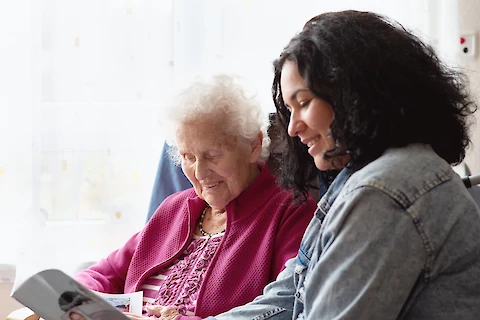 Caring for a senior loved one with Alzheimer's can be an incredibly arduous and exhausting task, especially in these difficult times. As a caregiver, you can feel overwhelmed and alone, and even the smallest of tasks can seem insurmountable. Take a look at some of the tips you can use to make it easier to care for a senior with Alzheimer's. 
Challenges Faced by Caregivers of a Person with Alzheimer's
Although Alzheimer's can present itself in different ways for different individuals, there are many challenges that caregivers of seniors with Alzheimer's may face in their journey of providing care and support. Some of these include:
Mood Swings
It's not uncommon for seniors with Alzheimer's to experience drastic changes in mood and behavior that can take caregivers by surprise. As a caregiver, it can be difficult to manage and respond to these changes in a positive way.
Memory Problems
Memory loss is one of the most common symptoms of Alzheimer's, and it can be difficult for caregivers to help their loved ones retain information and recall memories.
Safety Concerns
As the disease progresses, it can become progressively more challenging to ensure the safety of both the patient and the caregiver.
Communication Issues
As memory and communication skills decline, effectively communicating with the senior loved one becomes increasingly difficult.
Caregiver Fatigue
Caring for someone with Alzheimer's can be exhausting both mentally and physically. It is easy to become overwhelmed and even burned out, making it essential to take care of yourself first.
Strategies for Coping with Caregiving for Advanced Alzheimer's
Fortunately, there are several strategies one can employ in order to cope with the many challenges of caregiving for advanced Alzheimer's. Here are some tips that may be helpful:
Develop a Support System
Building a support system of family, friends, and professionals can provide you with the help and guidance needed to be a successful caregiver. It can also be an outlet for you to release any built-up stress or anxiety.
Practice Self-care
Taking time for yourself is important in order to keep up your physical and mental health. This can include anything from reading a book and taking a bath to exercising and talking with friends.
Take Time to Yourself
Plan for some breaks in your routine to give yourself a break from caregiving. This could be anything from going for a walk or watching a movie to taking a day trip or having a nap.
Use Respite Care When Needed
Respite care can be immensely helpful when you need a break from caregiving. It's important to ensure that the caregiver and the patient are both comfortable with the chosen respite care provider.
Connect with Others in Similar Circumstances
Talking to other individuals with similar experiences can be a great way to connect and exchange ideas. This can include online support groups or in-person support groups.
Senior Helpers Can Help with Caring for a Loved One with Alzheimer's
Caring for a senior loved one with Alzheimer's can be a difficult and challenging journey, but with the right strategies and a strong support system, it can become a bit easier. From taking time for yourself to using respite care when needed, adapting to new tools and techniques is essential to providing the best care for your loved one. 
If you are in need of some additional help, the experienced team at Senior Helpers Tucson East in East Tucson, Sabino Canyon, and Tanque Verde is here to provide compassionate care and support. Contact us to discuss our in-home care and respite care options.