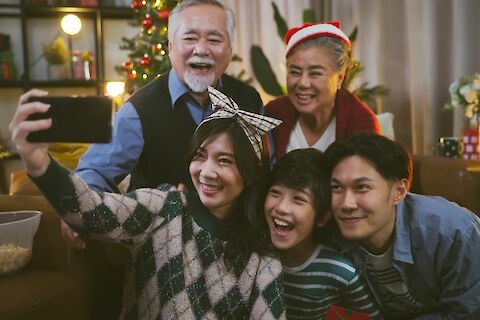 Adult Children's Guide to the First Holiday After Their Parent Receives a Dementia Diagnosis
The holiday season means different things for different people; for some, it is a time for families and friends to come together to have fun and share gifts, while for others, it is a time for religious observance and careful reflection on their lives. However, for families whose parents have recently been diagnosed with dementia, the holiday season can be difficult and filled with uncertainty. 
This post is a guide that adult children may find helpful as they navigate the first holiday celebration after their parent's dementia diagnosis.
Include the Parent in the Holiday Preparations
Involving a parent with dementia in holiday activities as much as possible can help them feel connected and included. It may also help preserve their sense of identity. Remember, dementia can affect their memory, communication, and decision-making abilities. So, when involving them in holiday preparations such as decorating the house or wrapping gifts, make adjustments as needed. If they find these challenging, give them light tasks like handing out presents.
Make the Environment Comfortable and Safe
Parents with dementia may get overwhelmed easily. The adult children can request the other family members and friends to spread out their weekly visits to avoid crowding. They should also keep the day's activities low-key and provide a separate quiet room where their parents can retreat if they need a break from the festivities. 
Frequently Asked Questions 
Here are common questions and concerns that adult children may have as they navigate the first holiday season after their parent's dementia diagnosis, together with tips and strategies for coping with changes and challenges, as well as ideas for ways to create meaningful and positive holiday experiences for both the person with dementia and the rest of the family.
How Can Adult Children Plan for Future Holidays with Their Parents' Dementia in Mind?
Adult children should be mindful of their parents' dementia diagnosis and the changes that may come with it. They should be open-minded regarding future holiday celebrations—what their parents enjoyed last year may not be the same thing they might enjoy doing this year. 
For example, they should keep the celebrations simple and structured by having easy-to-follow activities with a clear beginning and end.
How Can Adult Children Keep the Holiday Traditions and Memories Alive Despite Their Parents' Dementia Diagnosis?
While it may be necessary to make some adjustments to holiday traditions, it can be comforting for the parents to participate in familiar activities. Keep some of the usual holiday traditions, but be flexible if the parent is unable to participate fully. 
For example, families can look through old photos together to recall memories, watch holiday movies, or sing songs that remind them of past holidays. Other activities may include baking traditional recipes, making decorations, and decorating the house with the same ornaments and decorations as years past.
How Can Adult Children Balance the Needs of Their Parent With Dementia with the Needs of Other Family Members During the Holiday Season?
Plan ahead. Before the holidays begin, adult children should talk to their parent's doctor and other family members about their parent's condition. This allows them to create a plan that will be beneficial for all involved. Adult children should help other family members understand their parent's condition. Communicate with them about any limitations or special needs their parent may have. This ensures that everyone enjoys the holidays without feeling overwhelmed or frustrated.
How Can Adult Children Involve Their Parent Diagnosed with Dementia in Holiday Activities and Decision-making?
Adult children can start small, focusing on activities their parents can easily participate in. For example, they can encourage them to share their memories and experiences related to the holiday season or involve them in the holiday menu selection.
Talk to Senior Helpers Tuscon East Today for Professional Help 
Senior Helpers Tucson East provides a range of services to help adult children care for their parents with dementia during the holiday season. We can offer support and guidance to help make the experience as positive and enjoyable as possible. Our caregivers can help with holiday preparations such as decorating, cooking, and shopping. They can also drive seniors with dementia to and from holiday celebrations and activities, which can be especially helpful if they can no longer drive. 
Our aim is to help seniors living in East Tucson, Sabino Canyon, and Tanque Verde and their families enjoy their holidays and live comfortably. Contact Us today for more information about our in-home services.