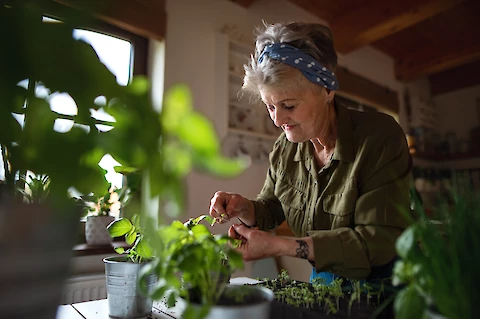 Have you ever considered starting an indoor herb garden? If you haven't, you should! The joy of nurturing life and witnessing growth can brighten your day and improve your mood. There's also something incredibly rewarding about adding home-grown herbs to your meals. Plus, it's a fantastic way to keep your mind active and boost your mental well-being without strenuous effort. 
The Benefits of Indoor Herb Gardening for Seniors 
Creating an indoor herb garden is about more than just having fresh basil for your pasta. Tending to these little pots of green provides cognitive stimulation, which is essential for mental well-being. Engaging with nature, even on a small scale, can create a sense of peace and contentment, bolstering your mood and reducing stress. The added bonus? A sprinkle of home-grown herbs can transform even the simplest recipes into gourmet delicacies, enhancing the nutritional value of your dishes.
A Step-by-Step Guide to Creating an Indoor Herb Garden 
Creating your herb haven is a fulfilling adventure that begins with choosing the right location. A sunny window ledge or a bright kitchen counter would be perfect. As for the containers, you can use a variety of pots, but remember to ensure they have good drainage. 
Choosing the right soil is critical to successful indoor gardening. Potting soil works best, and for an added nutrient boost, you can mix in a little compost. 
Now, onto the fun part: planting the herbs. Just follow the instructions on the seed packets, and remember not to overcrowd the pot. Watering needs vary by plant, but a good rule of thumb is to keep the soil damp, not soaking. A spray bottle can be handy for this. 
Recommended Herbs for Indoor Gardening 
Wondering what herbs to grow? You can start with basil, parsley, chives, or mint. They grow well indoors and are perfect for culinary experiments. Basil loves sunlight, so place it near a sunny window. Parsley and chives prefer cool conditions, so a north-facing window works great. Mint grows like a weed, so it's best in its own pot. With each of these, remember to snip leaves from the top to keep the plants bushy and productive.
Accommodating Seniors' Needs in Indoor Gardening 
If getting on your knees, bending over, or using traditional gardening tools is a challenge, don't worry. You can easily set up your herb garden on tabletops or use elevated planters. There are also specially designed gardening tools available that are easier to grip and gentle on arthritic hands. You can also opt for self-watering pots to minimize spillage and frequent watering.
Indoor herb gardening is a breeze once you get the hang of it, and the rewards are manifold. Health, happiness, and hearty meals can all be in your own little pots of green. Plus, you get to enjoy the satisfaction of nurturing life from a tiny seed, all from the comfort of your home. 
In-Home Care for Seniors
If you're in East Tucson, Sabino Canyon, or Tanque Verde and need more indoor gardening tips or assistance with other senior-friendly activities, don't hesitate to reach out to us at Senior Helpers Tucson East. Our in-home caregivers can help with getting your garden set up or offer companionship services that can allow you to chat about your green thumb and more. Reach out today to learn how our in-home care services can improve your quality of life.