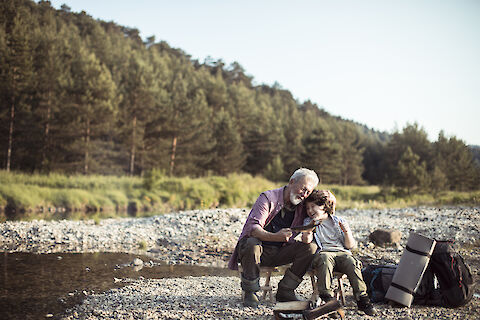 Father's Day is the perfect opportunity to show our elderly fathers how much we appreciate and cherish them. Creating memorable moments on Father's Day is not only a beautiful way to express our love and gratitude but also an opportunity to strengthen our bond.
In this blog post, we'll explore a variety of activities that cater to different interests and abilities, ensuring a memorable Father's Day celebration with your senior dad. Get ready to discover some inspiring ways to make this special day an unforgettable experience for both you and your family!
Activities to Do at Home
Spending Father's Day at home can be just as enjoyable as going out. One idea is to watch classic movies or sports games—pick something that resonates with your father's interests, whether it's a favorite film or his top sports team. Another great idea is to cook a special meal together. You can prepare a favorite recipe or try something new while taking into consideration any dietary restrictions your father might have.
You can also take a trip down memory lane by reminiscing over old photo albums. Sharing stories and memories can be a heartwarming experience for both of you. For a more interactive activity, consider playing board games or card games that are easy to understand and enjoyable for all ages.
Outdoor Activities
If your father enjoys spending time outdoors, a stroll in the park is an excellent way to bond on Father's Day. Choose a location with paved paths and benches to accommodate any mobility limitations. Aside from parks, attending a local sports game or event can also be a fun option. Just make sure to check for accessibility and seating options in advance.
For elderly fathers who enjoy a bit of adventure, a fishing trip can be a wonderful way to spend Father's Day. Opt for a location with accessible docks and ensure proper safety measures are in place. Another thrilling option is to embark on a scenic drive or sightseeing tour. Plan a route with interesting stops and viewpoints that cater to your father's interests and preferences.
If your father is a fan of live performances or concerts, attending one on Father's Day can make the occasion even more special. Choose a venue with accessible seating and consider your father's favorite music or theater genre when booking the event.
Create Lasting Memories
To make Father's Day extra special, capture the day with photos or videos to preserve these precious moments. Inviting family members and friends to join the celebration can also make the occasion even more memorable and enjoyable for your elderly father.
We're Here to Help
Whether your senior dad is living independently at home or living with your family, Senior Helpers Tucson East is here to provide support in East Tucson, Sabino Canyon, and Tanque Verde. Our services include assistance with daily self-care tasks, meal preparation, light housework, respite care, and compassionate companionship. Contact us today for more information on how we can help your father live his best life!