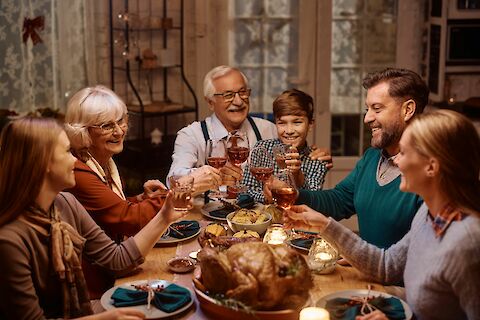 The Adult Children's Guide to the First Christmas After a Parent Receives a Dementia Diagnosis
Helping a senior family member cope with a dementia diagnosis and symptoms is challenging for their loved ones, but it can get less difficult once they learn what to expect and how to help their family member. The holidays are a time when senior citizens and their loved ones might be more sensitive to their condition, so here are our FAQs on how to best take care of family members during the first holiday after a dementia diagnosis. 
My parent has been diagnosed with dementia. What should I do differently during the holidays?
The most pertinent thing to consider is whether the parent is up to traveling or hosting if that was on the agenda for the holidays. If they are unable to understand going on a trip, then it might be important to spend the holidays at home. Many seniors with dementia might be overwhelmed with traveling and would be more comfortable at home at a smaller gathering that includes holiday songs, music, and traditional meals. 
Can my parent handle the holiday season? 
This will depend on the senior and their condition, so it's important to speak to their care team and the parent privately. During the first holiday after a dementia diagnosis, some seniors might need increased assistance. In other cases, the loved one might do remarkably well during the holiday.
Regardless of where the senior is in their treatment, minimize their discomfort by planning ahead for the holidays. If they will have guests, then show them pictures of their loved ones ahead of time. Familiarizing them with their loved ones ahead of schedule will help seniors feel more comfortable at the holiday gathering. 
What should I say to children and other family members?
With adult children, many directly involved in the caregiving process are already aware of what their family member is experiencing and how it impacts their daily life. As for those who aren't around as often, such as other siblings who live out of town, talk to them about their senior loved one and explain what kinds of changes they might witness in the senior's behavior patterns, memory, and the type of symptoms they can expect.
Adult children are generally capable of comprehending the nature of a condition like dementia and should be able to recognize whether they themselves may need therapy or additional emotional support during the holidays while they come to terms with changes in their parent's actions.
When telling younger children about the situation, it's appropriate to be honest yet respectful in describing what to expect from the senior loved one. Adult children can tell their own children that their grandparent might be acting differently but is still their grandparent who loves them very much. Children may not always understand everything about the scenario, but they will look to their parents for guidance in terms of how to behave. 
What do I do to help my parent during the holidays?
The best way to help them is to simply be there for them. Make the holiday less stressful in terms of meal preparation, assisting with decorations, and continuing to make new memories with them throughout this stage of their life. Although they might have changed, the senior loved one is still part of the family and should be included. 
About Us
Senior Helpers® is dedicated to helping seniors have the best holiday season possible in areas like Avondale, Glendale, Goodyear, Litchfield Park, Luke Air Force Base, Peoria, Phoenix, Waddell, and Tolleson. Contact us at our Glendale offices for more help with clients this holiday season.